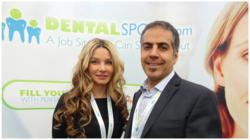 There are so many easy steps that people can take to help maintain their beautiful smile, but we need people to get educated and get involved in their own health
McKinney, Texas (PRWEB) July 31, 2012
In response to surveys revealing the importance of healthy teeth and gums to patients, Advant Dental in McKinney Texas is conducting a campaign to improve the oral health of the community.
Dr. Mojan Safavi, dentist, McKinney, TX, announces that Advant Dental will conduct a Healthy Teeth and Gums for Life Campaign to educate community members and make a difference in the lives of patients in McKinney, Frisco, Allen, Prosper, Plano and other communities in the North Texas area. The campaign is in response to surveys conducted by the McKinney dentist, which revealed that the most important thing for patients is having healthy teeth and gums.
"Our research contrasts with that of the American Dental Association which says that 50% of Americans do not floss daily and that almost a third of adults between the ages of 35 and 44 have untreated dental decay. Even though patients say healthy teeth and gums are important, they're not taking the simple actions necessary to insure that outcome. Our goal is to provide education on preventive dental care so people will take better care of the teeth they have.
In addition to poor oral hygiene the doctor says that oral health can be negatively affected by lifestyle factors, eating habits, and certain diseases. Poor oral health can also contribute to infections, problems chewing and digesting food, stomach irritation, and other serious health problems.Advant Dental will provide educational information in the form of newsletters and seminars that will instruct participants about the importance of establishing a lifetime routine of oral health and dental care. Dr. Safavi will also appear on television and radio shows to promote the benefits of good oral health.
"There are so many easy steps that people can take to help maintain their beautiful smile, but we need people to get educated and get involved in their own health," asserted the doctor. "This program will provide the knowledge and tools needed so everyone can achieve the benefits of healthy teeth and gums for life."
After graduating from Baylor College of Dentistry, Dr. Safavi founded Advant Dental to provide general and cosmetic dentistry services. She is a member of the American Dental Association, the Texas Dental Association and the North Texas 5th District Dental Society. The McKinney dentist provides restorative, general, state-of-the-art and sedation dentistry care to patients.
Along with her husband, Feridoon Amini, Dr. Safavi also co-founded a website that helps dentists and patients connect, ChooseYourDentist.com. The site makes it easy for patients to locate dental professionals who can meet their family's oral health needs. In keeping with Dr. Safavi's philosophy of providing plenty of patient education, the site also contains a wealth of information for patients to browse on the dental industry and oral health.
Advant Dental PA is located at 1550 S. Custer Rd. McKinney, Texas 75070 . Further information on the Healthy Teeth and Gums campaign or the practice may be found by calling 972-346-2992 or visiting the website at http://www.smilemakerUSA.com.