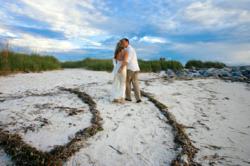 A beach wedding can be tricky to plan, but with a few helpful precautionary measures it can be the wedding of your dreams.
Delray Beach, Florida (PRWEB) July 31, 2012
Think beach wedding and visions of flowing dresses, natural flowers and relaxing music come to mind. While these are elements that a wedding planner is able to control, there are unfortunate elements that a planner can do absolutely nothing about.
Florida weather. It can be a bride's best friend or her worst enemy. At a wedding on the beach, plan on having a few fun and creative ways to beat the heat, shield the sun and make the wedding party as well as wedding guests as comfortable as possible. Here are a few tips to make it work for you, instead of against you.
1. Pass out parasols and paper fans to guests to block the sun and create a cool breeze. A wedding program would make a clever and decorative fan and serve a dual purpose.
2. Hydrate! Personalized water bottle labels will be much appreciated before the sun takes its toll on wedding guests and also add a personal touch to any wedding.
3. A beach wedding is a perfect opportunity for a custom cocktail. Use a combination of seasonal fruits or local ethnic flavors to create a refreshing drink and further personalize the wedding celebration.
4. Sunscreen bottles with custom labels are another fun way to help guests keep cool and stay protected. Also decorated in wedding colors, the bottles add personalization to the wedding design.
5. Encourage guests to go barefoot. Chances are that guests arrived in closed toe shoes and high heels. Assign a shoe valet to check guest's shoes before entering and assist in pass out flip-flops that keep feet cool and comfortable and also double as a favor that can be used after the wedding.
6. While all your guests may not partake, providing an assortment of hats is another way of providing extra comfort to those guests who are wishing that they wore one. A small sign lets guests know that they may borrow the hat of their choice. Providing a few hand held mirrors and guests will surely be apt to try one on.
7. Allow guests to feel comfortable to dress in less formal attire or to take off their jackets and ties. Many guests feel uncomfortable showing up sans formal wear, but if that's not high on the priority list, then let guests know via invitation or wedding website that it's ok to dress for comfort.
8. Consider a fabric arbor to shade. While flowers look great in any setting they don't take kindly to the sun. Wooden posts and a rooftop of fabric can be used for the bride and groom during a ceremony or erected for the ceremony or reception areas for all the guests. Should flowers be a must, select appropriate blooms such as tropical flowers that hold up well in heat or store flowers in a cool place until the last possible moment.
Florida Wedding Planner, Aviva Samuels from Kiss the Planner has been helping clients with wedding and other special events for nearly 15 years in the South Florida market. Aviva plans numerous beach weddings and can help you keep your guests comfortable when planning the Florida or Caribbean beach wedding of your dreams. For more information go to http://www.kisstheplanner.com.