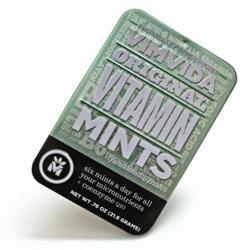 La Jolla, CA (PRWEB) August 06, 2012
VimVida™ Corporation, a La Jolla, CA based company, has come up with a unique and novel way to make vitamins in the form of sugar-free low calorie breath mints. Their initial product, VimVida Vitamin Mints™, are a tasty, nutritious and portable way of staying healthy. Based on extensive research and development, the company invented a way to incorporate new technology into a familiar delivery form - the mint.
Co-founder of VimVida, Dr. Sheldon S. Hendler, Ph.D., M.D, is the key formulator of the Vitamin Mints product. Dr. Hendler has a reputation for well thought out formulations backed by strong science and research. Throughout his career he has been a consultant to many international food and nutrition groups regarding ways to optimize health. During this time he often thought that there must be a better way to deliver the vitamins and minerals people need, so that they will enjoy them and thus, be more likely to take them.
Dr. Hendler is the author of the award winning, "Doctor's Vitamin and Mineral Encyclopedia","The PDR for Nutritional Supplements" and many other books, journal papers, and patents. He is also the Editor in Chief of the Journal of Medicinal Food, an international, peer reviewed publication.
VimVida's approach challenges the common paradigm of taking vitamins once a day. Optimal bio-availability of these micronutrients is achieved by regulating absorption efficiency via lipid encapsulation, dosing schedule and mucosal transfer. VimVida believes that optimal nutrient absorption can be achieved by delivering the recommended Daily Value in 6 mints consumed at intervals throughout the day.
VimVida Corporation is a La Jolla, California nutritional supplement company that specializes in making healthy, desirable and accessible dietary supplements. VimVida has a number of trademarks and other intellectual property.
This news release contains forward-looking statements within the meaning of the Securities Litigation Reform Act. The statements reflect the Company's current views with respect to future events that involve substantial risks and uncertainties. Among others, these risks and uncertainties include the ability to meet schedule or performance requirements of the Company's contracts, potential quality problems with the Company's products, difficulties in raising needed capital and the Company's liquidity position, the Company's ability to obtain new contracts, the emergence of competitors with better products and/or greater financial resources, the impact of competitive pricing, and changes in energy prices and government incentives. In light of these risks and uncertainties the forward-looking events referred to in this release might not occur.
###