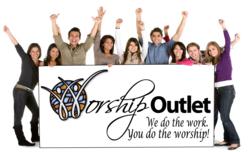 While other churches are closing in Detroit, Peace Lutheran is growing and attributes one of the reasons to WorshipOutlet.
Omaha, NE (PRWEB) August 21, 2012
Worship Outlet in Omaha, a valued resource for churches of all denominations, has introduced several new programs to help pastors and worship leaders plan services, including worship settings and special music.
J. P. Davidson, Executive Director of WorshipOutlet says, "Recently one of our churches in an urban setting of Detroit that uses Worship Alive Plus attributed the growth of their church to our worship resource. Their worship leader wrote: ' God has richly been blessing the ministry at Peace Lutheran. We have seen over 35 people baptized since we started our praise celebration services in September 2007. Last Sunday 10 people were brought into the family of God! We use Worship Alive Plus as our model. Our urban churches in the city of Detroit are closing left and right and God has blessed us with an ever growing group of peoples who long to hear Him,' says, Suzanne Straub, the worship leader at Peace Lutheran in Detroit.
Worship Outlet consists of a team of professionally trained pastors, worship leaders, and musicians from around the country dedicated to providing churches with meaningful, life-changing worship experiences.
Two of Worship Outlets newest offerings are WorshipAlivePlus and NuParables.
WorshipAlivePlus is a worship-planning resource written for both the Revised Common Lectionary and the LSB Lectionary readings. Each Sunday theme is based on the three-year cycle of the church year.
NuParables are designed to spark those "aha" moments in worshipers. These are fresh, creative ideas to help communicate God's timeless truths in ways that help people experience those truths on a new level.
Both WorshipAlivePlus and NuParables are available by subscription or on an individual lesson basis.
Worship Outlet also offers a impressive variety of other creative resources.
WorshipShare is a virtual filing cabinet full of worship ideas from Worship Outlet members. This free service requires only a simple registration, and members are encouraged to download as many ideas as they want. They are also encouraged to submit their own ideas.
The Sermon Series service is designed to help pastors and worship leaders plan around a single theme that lasts three to 12 weeks, with each week in the series a complete worship service. Sermon Series is also available by individual series or yearly subscription.
Finally, Worship Outlet offers complete worship services for such special days such as baptism, church anniversaries, patriotic themes, Holy Week and many others. Special Services is available by annual subscription or by individual service.
"We are thrilled to know that we are able to help ministries from around the world by providing these c ustomizable and creative resources to assist pastors and worship leaders in planning their worship. It is a blessing!," says, Davidson.
For more information go to http://www.worshipoutlet.com, or contact Worship Outlet at customercare (at) worshipoutlet (dot) com.
Worship Outlet's mailing address is 3434 N. 204th St., Elkhorn, NE, 68022, and the telephone number is 402-763-9255.