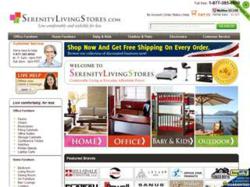 Vancouver, BC (PRWEB) August 02, 2012
Serenity Living Stores, an internet retailer of electronics and fine furnishings for both home and office is pleased to announce that customers visiting its online store can now take advantage of an interactive chat feature. This feature allows consumers and other interested individuals to engage in online discussions with one of Serenity's customer care specialists.
Known as a "live help feature," interactive chat is available during normal business hours on weekdays and from 8:00 a.m. until 3:00 p.m. on Saturdays. During the week, live help can be accessed from 5:00 a.m. Since Serenity's headquarters are located in Canada's Pacific province of British Columbia, all times quoted are Pacific Standard Time.
Customers can access the interactive chat feature from any page at the Serenity website. When live help is offline, the "contact us" page displays a helpful message informing customers of this and offers a one-click interface for them to leave a message for a customer care specialist.
How online interactive chat helps customers
Serenity is committed to a high level of customer care and service. This attitude permeates the company in both its web presence and its personal interactions with customers. Although the Serenity website is designed to make online shopping a user-friendly experience and incorporates a helpful search feature along with easy navigation via major category pages, some web visitors may need additional assistance.
Clicking on the live chat button, which is located at the top left of every page, will bring up an interactive chat box that enables customers to type in messages and receive a rapid written response from a representative. Unlike email, the chat box opens up the possibility for an ongoing dialogue in situations where customers require more guidance or information as they continue to explore the Serenity site and check out the fine furnishing and electronics that are to be found there.
Customer care specialists are on hand to answer questions customers have about individual items. For example, they may be able to provide more clarity about such issues as available colors for upholstered chairs. In addition, they are also there to guide customers to the specific pages and sections of the website where they can find the products they are looking for.
Perhaps most importantly, Serenity Living's customer care specialists can help customers who require more detailed information concerning the company's generous guarantees and return policies. Making a large purchase online can be daunting for some people, but with the assistance of a real human being to guide them, they may begin to feel that online furniture shopping is actually preferable to spending hours searching in crowded malls.
To see the live chat feature in operation, visit the Serenity Living Stores website at serenitylivingstores.com and click on the "click here for live help" link in the upper left portion of the screen.