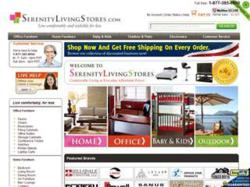 Richmond, British Colombia (PRWEB) August 02, 2012
Serenity Living Stores, an internet-based retailer selling fine furniture for both indoors and outdoors, believes that customer feedback is a valuable data point for consumers trying to determine where to best spend their online dollars. Some companies do everything they can to obscure or hide what real customers have to say about them, their products or the level of service delivered. Serenity, in contrast, participates in the Nextag 4-Star Seller program.
The Nextag 4-Star Seller program operates an independent website for the display of customer ratings and feedback on a wide variety of companies, including Serenity Living Stores. Because Serenity is committed to transparency and openness in all its online dealings, it provides customers using its main website with an easy way of linking to the Serenity page at Nextag. On the left-hand side of every webpage that makes up the Serenity site, customers will see the Nextag icon, which consists of an X attached to a stylized image of a price tag.
Serenity has made this icon, which bears the text 'Nextag 4-Star Seller,' clickable. It links directly to the company's page on the Nextag site, where visitors can check out the ratings and reviews submitted by Serenity's customers. Nextag also provides basic seller information, which includes contact email addresses and hours of opening, among a range of other useful information.
Customer ratings and reviews
The Nextag program currently indicates that Serenity has been a participant in the program since 2010 and that, in the past 24 months, the company has received 24 ratings. Of these, 20 were positive and four were neutral; Serenity has received no negative evaluations in the system during the past two years, a record that many online merchants would be hard-pressed to match.
In addition to simple ratings, Nextag is also a source of detailed textual comments revealing what actual Serenity customers had to say about the store and its policies. Reading these provides potential and existing customers with a potent source of information, often directing them to features of the Serenity website that they may be unaware of. For example, a recent review of the Barcelona chair, sold by Serenity, reveals that one customer found a video on the site that helped her to better understand the high quality of the chair offered by Serenity in contrast to competing retailers, who were selling a much lower quality version of the same style of chair.
Another Nextag review comments on the excellent shipping policies operated by Serenity, policies that mean, in many cases, that shipping is both fast and free.
To find out more about the positive feedback customers have posted about Serenity, visit the company at http://www.serenitylivingstores.com and scroll down to find the Nextag icon.