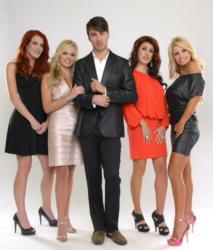 Hair Extensions brings instant confidence and Beauty.
Atlanta, GA (PRWEB) August 28, 2012
The demand for hair extensions is at an all time high for women desiring to look younger and feel confident. The web provides information on all methods. For a future client it can be very confusing due to the multiple methods available. In Atlanta the cost ranges from $400-$1600 depending on hair extensions method. Two methods are popular; hair weaving for African American and Strand by Strand Hair Extensions for Caucasion clients. Hair Culture (http://www.haircultureextensions.com , 404-933-4727) Master Extensionist Lisa answers questions on both methods below based on their experience. Lisa stated, "Hair Culture Extension clients want a professional salon that specializes in Extensions. They desire a natural look, with low maintenance."
Hair Culture talks to hundreds of clients that have various textures of European and African American hair.
Hair Culture and Hair Extensions of Atlanta (http://www.hairextensionsatl.com) have provided advice below to help future clients save money, time and receive the look they desire for 2012 Holiday Season.
"Hair extensions are safe, allow your hair to grow and make you look 10 years younger," Lisa stated, " you have to know where to go."
Below are questions and responses to provide clarity on hair extensions methods from Hair Culture Specialist Lisa.
Questions
What is the difference between Hair Weaving and Strand by Strand Hair Extensions?
Lisa response, "Hair weaving is a braided method in which weft hair is sewn and attached to cornrows. This method works great on African American or coarse texture hair. Although, Hair Culture does both methods they do not recommend hair weaving for European hair due to the maintenance, time and cost to clients for upkeep. European hair needs to be cleaned multiple times a week and the braids don't hold without possible tangling and or damage. Non damaging strand by strand extensions such as micro link extensions (Infusion) would be recommended."
How long do they both last in hair?
Lisa's response, "African American hair can keep a hair weave in for 2 months before it needs to be taken out. European Hair 3 weeks before they will need maintenance. Hair Extensions Micro link extensions is the same for European or African American clients. They don't need to come in for 2 months for maintenance."
How long does hair weaving or hair extension last?
Lisa's response, "Weft hair that is used in hair weaving comes in various qualities, lasting 1-3 months before purchasing new hair. Micro link hair last 9-12 months and comes in all hair types."
Does hair extensions or strand by strand use glue or damaging heated tools?
Lisa's response, "Micro linking does not not use heat, glue or chemicals. Therefore there is no damage. There are various tips in strand by strand. Keratin uses heat to attach extension to hair. Micro link uses a micro bead the same color as your hair. Makes it invisible in the hair. There is a method of micro links to use on men and women who are balding in crown area of head or have alopecia. Our clients hair grows and gets healthier while in extensions. Micro link is not Fusion."
Can you color hair with both methods grays and highlights?
Lisa's response, 'Yes".
Which does Hair Culture recommend more and why?
Lisa's response, "Hair Extensions of Atlanta (http://www.hairextensionsatl.com) recommend strand by strand Hair extensions more. Its natural looking and you can wear pony tails. We are committed to educating people on which method is appropriate for hair and lifestyle. A secret for African Americans is coarser hair when wet swells and holds the link tighter than European hair. Strand by strand or I-Tip hair makes a person look 10 years younger. At Hair Extensions of Atlanta in Johns Creek, we blend the hair to look natural. Our clients are professionals, entertainers and housewives wanting an anti-aging look. The confidence after extensions in our clients about their appearance is a miracle to behold. They can also maintain their hair at home with very little maintenance."
What steps should a person take prior to getting hair extensions?
Lisa's response, "Choose a salon that specializes in only strand by strand hair extensions or Weaves. Make appointment for a free consultation."
Stylist should match hair and texture to extensions.
A professional hair extensionist can always provide and guarantee the hair for strand by strand. If they can not they are not experienced.and or certified.
Make sure you are comfortable and confident with the Extensionist and environment. The salon should be relaxing and private.
Bring photo or the extensionist can provide makeover services.
Salon should provide guaranteed 100% Premium Remy Hair for Hair extensions.
Use products recommended for maintaining hair extensions such as shampoo and conditioners.
Price point for strand by strand micro links hair extensions is $650-1500 for 9-12 months which includes hair, installation and cut. Weave extensions is $150-$200 (braiding, trim, installation and cut included) plus the cost of hair which can range from $100-$500 for a full head. Do not shop by price. The cheapest price in most cases could result in hair loss.