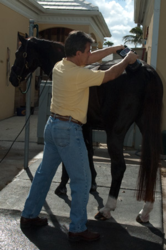 "For an animal to feel cared for through massage, that's a powerful impact." Jean-Pierre Hourdebaigt
Osceola, WI (PRWEB) August 07, 2012
As the Equine Olympic competitions round up, EquineTherapy.com is taking this opportunity to talk about equine health and addressing muscle soreness that occurs in horses during training or after athletic activities. While human athletes may receive sports massage to assist with muscle recovery, this effort can be more challenging with muscles as powerful as those found in a Sporthorse.
According to animal specialist, EQUISPORTS dealer and internationally acclaimed author Jean-Pierre Hourdebaigt, LMT, equine athletes can also experience soreness and mild inflammation following physical exertion. "Imagine that you go to the gym and hire a private fitness trainer; you'll get sore because you're using muscles you haven't used before. That also happens with horses when they're either new to a certain physical activity or their activity is increased, such as leading up to a show or event," he says, adding that it usually takes up to 48 hours for soreness to appear.
During a time of increased activity leading up to a competition, licensed massage therapist Hourdebaight says inflammation is a natural part of the process, but that does not mean it should not be treated. There are still ways to ease discomfort and support the healing process.
According to Hourdebaigt, who advises both professionals and enthusiasts through his Massage Awareness Method® and educational websites, cautions that owners and caretakers know the difference between soreness and an injury.
"If you notice mild soreness or inflammation, such as if a horse shrinks from your touch or any applied pressure or if there's a slight difference in body temperature that's apparent by touch with the hand, you'll want to give that horse a rest, but you can also reestablish circulation to address the congestion," Hourdebaigt says.
"In healthy animals, that can be done manually through gentle effleurage (circular stroking movements made with the palm of the hand) or lightly applying the EQUISPORTS Massager, but only in certain areas and directions.
Lightly massaging these areas can benefit the horse psychologically as well as physically. "For an animal to feel cared for through massage, that's a powerful impact," he adds.
Hourdebaigt adds that in addition to the EQUISPORTS Massager, it's helpful to have homeopathic remedies such as arnica on hand to relieve soreness, but any time you have unusual symptoms or an open wound it's important to consult with your veterinarian.
About Jean-Pierre Hourdebaigt
Residing in Wellington, Florida, USA, Jean-Pierre Hourdebaigt (pronounced hoo-da-bay) teaches workshops and seminars to educate others in the use of his Massage Awareness Method® for dogs and horses. His websites, AnimalAwareness.com and MassageAwareness.com, offer a variety of tools and resources including books, articles, and videos. Past students have included health professionals such as physiotherapists, veterinarians, and veterinary technicians, plus those interested in participating in the fitness and well-being of their equine companions, such as breeders, trainers, grooms, farriers, and riders of all levels and disciplines. Hourdebaigt is also an EQUISPORTS Massager dealer, and is literally the 'poster guy' since he appears on the instructional poster that accompanies each massager purchase.
About Equine Therapy
EquineTherapy.com is home to The EQUISPORTS massager, a product of Core Products International, Inc, which promotes equine health. The EQUISPORTS™ Massager is built in the USA to be Barn Tough. Many horse owners, trainers, performance riders and veterinarians have incorporated the EQUISPORTS™ routine into their horse's exercise program to help alleviate muscle fatigue and reduce stiffness. More information is available at EquineTherapy.com.