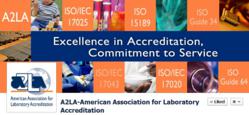 Join us on Facebook!
Frederick, MD. (PRWEB) August 15, 2012
A2LA is joining the Facebook family! That means A2LA customers may now stay up-to-date with the industry's leading Accreditation Body on their favorite social media site! A2LA will be posting new and renewal accreditations, relevant news, and a host of other A2LA- or accreditation-related items. Additionally, the A2LA Facebook site may be used as a tool to connect and network with other accredited organizations. Interested parties may visit and 'like' A2LA on Facebook at http://www.Facebook.com/A2LAAccreditation.
A2LA invites A2LA-accredited organizations to submit pictures of their staff with their A2LA Scope of Accreditation or Certificate. A2LA will post these pictures to their new Facebook page, along with a link to the participating organization's website. Pictures should be emailed in .jpg format to Karin Athanas, A2LA Senior Accreditation Officer, at Facebook(at)A2LA(dot)org.
ABOUT A2LA:
The American Association for Laboratory Accreditation (A2LA) is a nonprofit, non-governmental, public service, membership society. A2LA provides comprehensive accreditation services and related training. Services are available to any type of organization, be it private or government. Accreditation is based on internationally accepted criteria for competence (e.g., ISO/IEC 17025:2005). In addition to laboratory accreditation, A2LA also offers accreditation programs for inspection bodies, proficiency testing providers, reference material producers and product certification bodies. For more information about A2LA, please visit their website at http://www.A2LA.org or their Facebook page at http://www.Facebook.com/A2LAAccreditation.