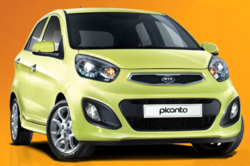 In The Giving Card spirit we strongly advise you to pluck up the courage and ask for a discount.
(PRWEB UK) 1 August 2012
With exorbitant petrol prices and the recent petrol tanker strike, it is more crucial than ever for consumers to consider frugal, economical cars that do not break the bank yet still have curb appeal. The Giving Card have compiled a list of cars that do just that and will save you from carrying 'Jerry' cans as a means of avoiding those lengthy queues at the petrol pump.
City/Compact – Kia Picanto - £7,545
Well-equipped coupled with a fine driving position make this small yet mighty city car a sound choice for urban driving. A small price tag and mammoth 67.3 mpg figure enable this car to cheekily avoid Road Tax duty saving a small fortune each year. Finally Kia's seven year warranty leaves Kia owners stress free for seven years unlike all other car manufacturers who offer only three years.
Family – Peugeot 308 - £15,545
Peugeot offer a quirky family hatchback with great road presence and a money slashing engine retaining lots of French charm. The greenest engine of the range is the 1.6-litre e-HDi producing a thrifty 70mpg and a low emissions rating granting a free Road Tax status.
Saloon – Skoda Octavia – £17,975
The Giving Card's choice would be the 1.6 TDI 105 Greenline averaging a humongous 74.3mpg and emitting just 99g/km CO2 avoiding Road Tax Duty. The Octavia is one of the most practical family hatchbacks on sale and is cavernously roomy. Although the current model has been around for a while it is still a great choice for company car and family users.
4x4 - Nissan Qashqai - £16,595
The Giving Card's pick for this category is the Nissan Qashqai which makes for an affordable and refined driving experience. The Qashqai's lofty driving position coupled with its bold styling allows for a commanding driving experience. The economical 1.6 dCi engine avoids Road Tax and strong resale values lend themselves to competitive PCP and company car rates.
Premium – new BMW 3 Series 2012 - £25,730
BMW's latest reincarnation of their hugely successful 3 series is a perfect choice for buyers with deeper pockets. The design is striking and the technological advances are cutting edge whilst refinement levels are unmatched. The new Efficient Dynamics 2 litre diesel engine offers strong performance with unparalleled economy making for a 'cheaper' premium experience. It is also WHATCAR'S Executive Car of the Year.
Remember the list prices are just that. In The Giving Card spirit we strongly advise you to pluck up the courage and ask for a discount. Feel free to search for some more hot offers that will save you money – just visit our website http://www.thegivingcard.co.uk