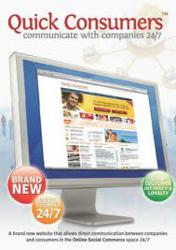 quickconsumers.com gives consumers the chance to instantly create web pages to communicate with companies and other consumers.
London (PRWEB UK) 6 August 2012
Quickconsumers.com is a new consumer website aimed at providing a place where consumers and companies can interact 24/7. This is facilitated by consumers instantly creating unique dashboard or community space web pages. These pages can be created for free and used to post important messages such as Complaints, Praise, Reviews and Questions. The site also features consumer forums, blogs and consumer 'live' where consumers can post their own offers and tips they have seen whilst out shopping. The moneysaving page provides latest consumer offers, deals and information. The interactive survey page where consumers can make money is powered by partner's eDigitalresearch.com and Mark Baumann is the celebrity chef on the interactive recipe page.
Quickconsumers Managing Director Mark Quinn said: " We want to provide a unique and focused place for consumers to go and interact with companies and other consumers. Once on the site they can start the conversation themselves by instantly creating dashboard pages for their favourite companies, we then tell the company that they can respond using this page. Since launch we have seen companies interacting with consumers on these pages as the site grows"