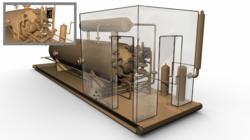 The Treater–Combo is an all in one production system that installs in a fraction of the time and cost of a standard well pads set up.
Houston, TX (PRWEB) August 08, 2012
The Engineered Concepts Treater-Combo significantly reduces the hassles involved with the planning, procurement, delivery and installation of a well pads' production system. The Treater–Combo is an all in one production system that installs in a fraction of the time and cost of a standard well pads set up. When required, the Treater-Combo is fully insulated and housed. Once the Treater-Combo is set into place all that is required is flanging up six (6) connections. "In lousy weather, the guys in the field will especially appreciate the installation and operation of our Treater-Combo. All of the controls are centrally located in a warm enclosure so you don't have to get out into the elements between separate pieces of equipment to observe. The Treater-Combo operation is also very simple and logical. There's just not a lot that can go wrong with this design, explains Gary Heath, Engineered Concepts Vice President of Engineering."
The horizontal Treater-Combo package design allows it to be hauled anywhere without an over width or over height permit and is designed for both oilfield truck tailboard loading or crane loading and setting. The Treater-Combo combines all of the functions of a two-phase high-pressure separator, line heater and a horizontal treater on a single skid. To replace the need to generate compressed instrument air, a specially designed gas dryer for extreme cold operation or a standard dryer design can be integrated into the "all in one" skid.
Equipment, rentals, personnel and time are all in short supply in many of the shale plays. In some oil producing regions, weather conditions often bring operations to a crawl. A typical field installation in the Bakken Shale involves hauling and erecting a vertical separator, a 20-foot heater treater and possibly a line heater through terrain that is often very rugged and difficult to negotiate. Cranes are required to erect the vessels and insulating the equipment on location is common. Operators have a choice to use produced gas for the fuel and pressure required to operate the equipment on the site or install a separate source for compressed air. Piping between the heater, separator and treater, must be cut, welded, flanged and insulated. Valves and other flow control equipment must be sized and installed between these components as well. All of the well pad equipment must be procured, installation crews must be scheduled, and cranes and other installation equipment must be reserved and deployed.
Engineered Concepts Treater-Combo skids are designed to meet field process requirements and can be easily cleaned in the event of an upset. "Our experience manufacturing horizontal process equipment goes back to our Olman Heath roots, states Heath. We've built thousands. "
The founders of Engineered Concepts originally began operations as the Olman Heath Company in 1959 in Farmington New Mexico. Their first patent involved a horizontal design that became very popular on well pads throughout the Rocky Mountains and the Western US. Weatherford International purchased Olman Heath in the 1980s. The founders regrouped in 2000 forming Engineered Concepts LLC and began developing high efficiency emission reducing oil and gas production technologies. Engineered Concepts now offers customers total well pad solutions including engineering, design and fabricating of a full range of production and midstream equipment. For more information visit: http://www.engineeredconcepts.com