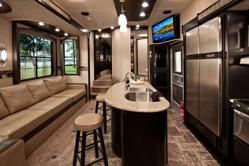 Ft. Myers, FL (PRWEB) August 09, 2012
Adding to their luxury, recreational vehicle product line, North Trail RV Center of Ft. Myers and Ft. Lauderdale, FL, is proud to announce the addition of Thor's Heartland RV brand to their line of luxury, towable RV inventory.
As South Florida's largest RV dealer, North Trail RV Center already features the most prominent names in luxury recreational vehicle market like Newmar, Tiffin Motorhomes, Fleetwood RV and more. Introducing Thor's Heartland RV, high-end, towable, toy-hauler line provides even more choices for today's savvy RV buyers.
Luxury toy-haulers like the Road Warrior, the Cyclone and the Torque give sports addicts, hobbyists and so forth many more options for hauling their toys across the county or the country. These luxurious fifth wheels and travel trailers come with a 'garage' in the back that can house anything from motorcycles, four wheelers and golf carts or even be used as an area for pets. They feature amenities such as tvs, pull down beds, couches, rubber flooring and even an outdoor patio. With king sized beds, custom cabinetry, Corian countertops, luxurious furnishings and more, these toy-haulers provide the ultimate in luxury travel for the outdoor enthusiast.
Thor Industries is the world's largest manufacturer of recreational vehicles and added Heartland to their fleet in 2010. According to RVBusiness, Thor purchased the controlling interest in the Elkhart, Ind.-based Heartland Recreational Vehicles LLC for $200 million. Thor and Heartland RV continue to lead the way in innovative, luxury RV design.
For more information, please visit http://www.northtrailrv.com or call 1-888-819-9973
About North Trail RV Center
With coast to coast locations, North Trail RV Center is South Florida's largest RV dealer. With over 50 million dollars of inventory in stock, North Trail RV Center features the best RV manufacturers in the country such as Newmar, Tiffin Motorhomes, Fleetwood, American Coach, Heartland RV, Winnebago, Keystone RV, Pleasure Way, Itasca and Jayco. For over 25 years, the locally-owned, family business has grown to employ over 170 people in 3 locations throughout South Florida. With major facility expansion plans for 2013 in Ft. Myers, North Trail RV Center will continue to be South Florida's number one, full-service RV dealer for many years to come.'Like' us on Facebook at http://www.facebook.com/northtrailrv
Media Contact:
Jennifer Sabella
Public Relations
1-888-819-9973
###