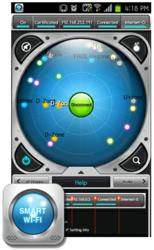 Don't waste time fumbling around with your smartphone trying to get the best internet connection and get Smart WiFi Pro from GooglePlay Market.
(PRWEB) August 03, 2012
Appster Co., an innovative mobile applications and solutions developer, is excited today to announce the launch of an updated version of Smart WiFi onto Google Play. The developer has also announced an upcoming sale that will see the app's price drop from $2.50 to only $0.99 beginning August 3rd to celebrate its arrival. The network search and management app now features an enhanced radar view, a one-click 'Auto Find' function, and more.
Smart WiFi's overall performance and ease of operation were also streamlined for greater ease of use while the app's developers - after considering user feedback - resolved a number of minor bugs and UI inconsistencies as well. Compatible with all Android smartphones, Smart WiFi is a network management utility that allows users to find WiFi network access points, switch between 3G & 4G network coverage, manage IP settings & much more through a single centralized hub. Currently available for download on Google play for $2.50 in the Tools category, Smart WiFi Pro version will be available for only $0.99 for a full week starting this Friday!
Able to run on all Android devices, Smart WiFi boasts more in-depth functionality than its competitors, and features an industry leading user interface that's as practical as it is eloquently simple to navigate. The app's re-worked WiFi radar view sits front and center once users open the tool up, which instantly shows them a graphic view of the connections around them, how far each possible access point is, and how strong its signal is. Furthermore, unlike most WiFi scanning utilities on Android, Smart WiFi doesn't simply show users available WiFi signals but lets them know if they are secured and if users have the ability to access them too via the app's 'Check Internet Availability' function. Of course, if users simply want to disable their device's WiFi port, they can do so without batting an eyelash too.
This is the consummate all-in-one network connection management system. Smart WiFi's broad array of customizable functions include real-time WiFi signal and 4G connection capabilities, as well as automated push notification alerts that let users know when new usable WiFi and 4G signals come into range. To boot, the app's innovative Auto 3G Conversion feature lets users seamlessly switch between connections as they come in and out of range for optimal performance without having to constantly switch between connections by hand. Don't waste time fumbling around with your smartphone trying to get the best internet connection and get Smart WiFi from GooglePlay Market - the internet connection management solution that's as smart and simple to use as your mobile device is.
About the developer:
Appster Co. is an independent mobile applications and lifestyle solutions studio committed to enhancing and streamlining users interactions with their mobile devices. Frustrated with past WiFi and mobile network connection management systems experiences, the company's team is keenly focused on developing innovative and uniquely convenient new mobile connection utilities for modern tech savvy consumers to enjoy. © Appster Co. 2012. All Rights Reserved. Google, Google Play, and Android are registered trademarks of Google Inc. in the U.S. and/or other countries.