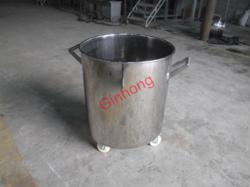 Jinhu, Jiangsu Province (PRWEB) August 01, 2012
China based Ginhong is proud to announce to customers that they will carry a variety of tank and vessel units to meet the varying needs of manufacturers. The company is making available the stainless steel tank and stainless steel vessel to customers in which work in the pharmaceutical, cosmetic, chemical and food industries.
Ginhong is dedicated to providing the very best in tank and vessel units to their customers. They are a leading company in mixers and emulsifiers and work with companies from around the globe. They ship their products literally all over the world and are striving to help meet customer's needs both domestically and internationally.
The Chinese company is dedicated to making manufacturer's jobs easier by providing them high quality mixers and other technological machinery which can make the process faster. They are also concerned about offering machinery at the best possible prices to their worldwide customer base. The latest advancements are included in storage tanks that are offered through Ginhong. Once the cream or liquids are mixed together using their state-of-the-art machinery, different storage tanks can be used to hold the substance until it is ready to be filled or packed.
Ginhong has a tank or vessel that can be used to hold different types of liquids, semi-solids or solids. View their vacuum storage unit or the CG stainless steel tank which can be open or closed along with a wide variety of mixing machinery on their main website http://www.ginhong.com/.
About Ginhong
Ginhong has grown to the place where they work with companies around the globe. The company started in Jinhu, Jiangsu Province. But the company began growing very quickly until it outgrew its facility and had to relocate. The larger facility houses an experienced team which manufactures, engineers and designs various types of mixing machinery. The company has grown from its humble beginnings until it is not considered to be one of the premier vacuum mixer suppliers in China. Their equipment complies with international quality standards and also has obtained many certifications which are issued by government and professional third parties.