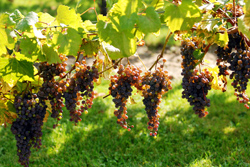 The country's only winery on the same road as a water park, a Zoo, and just minutes from over 50 restaurants.
Candia, NH (PRWEB) August 01, 2012
New Hampshire's growing wine industry is great for local connoisseurs and tourists alike, but only the Candia Winery can call themselves New England's first vintner of a world-ranked label. This boutique vineyard in the heart of Candia's local wine community is offering fine wine aficionados a brand new opportunity this summer with exclusive VIP tours of their family-owned facility. These tour packages invite guests to sample handcrafted vintages personally served by the winemakers who created them, and discover the vineyard's award-winning labels straight from the source.
After winning medals for excellence in both national and international competitions, their winemakers are confident that their handiwork will enhance any social occasion. Their professional staff specialize in pairing their many wines with different dishes to enhance any meal, and the winery's VIP tour packages offer personal attention to every guest about the entire process of production. The wines produced by the Candia Winery contain only grapes from on-site vines, and never utilize any foreign ingredients.
The catalog of wines includes standard favorites like Chardonnay, Riesling, and Cabernet Sauvignon; but the vineyard also prides themselves on their one-of-a-kind creations. Their award winning, exquisitely fruity yet dry Frontenac vintage is the first of its kind grown in New Hampshire. The Noiret wine offered by the Candia Winery is also the first in the state, and is the most frequently-awarded variety in the world. Another popular production is the winery's line of dessert wines, perfect for completing an expertly-paired meal.
Conveniently located near a waterpark, zoo, and over 50 local restaurants, the winery provides a tantalizing vacation destination for guests seeking the fruits of New England's artisans. In addition to their VIP tours and other special events, the business features daily tastings. Their tours cover the entire vineyard and winemaking facility, offering unique insights into the production of every label. The Candia Winery also offers special vault reserve wines for sale and tastings.
About the company:
Candia Vineyards is a boutique Vineyard that specializes in fine table wines from grapes. Their products, processes and labels are meant to convey their dedication to hard work, quality, history and romance. With traditionally correct food pairings, their wines transform a good meal into a memorable one. Social occasions are enhanced by the inclusion of a favorite Candia Vineyards wine. Candia Vineyards has won world-class medals in National and International competitions. For more information visit their website at http://www.CandiaVineyards.com.