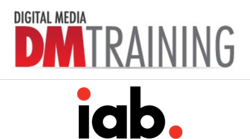 "They say a year in the Internet business is like a dog year… equivalent to seven years in a regular person's life.In other words, it's evolving fast and faster." – Vinton Cerf, U.S. Technology Guru
New York, NY (PRWEB) August 02, 2012
Digital Media Training, partner of the Interactive Advertising Bureau (IAB), introduces a specialized training curriculum that will specifically prepare digital media salespeople for the IAB Digital Media Sales Certification test.
Digital Media Training (DMT) is offering an interactive webinar series that will prepare digital salespeople for the exam by reviewing current industry issues, the major industry players and operations, as well as a broad understanding of every major digital platform.
Our in-depth webinar series will consist of four 90 minute sessions that will also include sample practice testing and a comprehensive resource guide to help prepare you for the exam. The webinars will be held on the following dates:

August 21st ; August 28th ; September 11th ; September 18th
Cost - $200 per person
Register by clicking here or for additional information contact us at joan(at)dmtraining(dot)net or call at 212-502-3065.