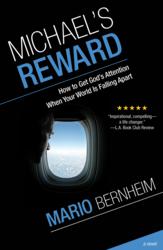 This spiritual battle is as revant today, as it was 4,000 years ago. With many key themes such as forgiveness, compassion, homelessness and faith, this story stands the test of time.
Long Beach, California (PRWEB) August 14, 2012
Winner of the National Indie Excellence Awards, Michael's Reward, an action driven spiritual drama places first in national competition.
The Sixth Annual National Indie Excellence Awards recognized Michael's Reward by Mario Bernheim as a winner in the 2012 competition.
This national award, based in Los Angeles, CA is open to all English language books including small presses, university presses, independent publishers and self-published authors.
The competition is judged by independent experts from all aspects of the indie book industry, including publishers, writers, editors, book cover designers and professional copywriters. They select award winners and finalists based on overall excellence of presentation.
Michael's Reward won the religious fiction category. Author/publisher Mario Bernheim described it as, "I took the story of this spiritual giant who lived eons ago in the Old Testament, and recreated it beat for beat in modern day Santa Barbara, Ca. There are many contemporary themes woven in this story, such as forgiveness, homelessness, faith, love and compassion. The reviews for this book far exceeded our hopes. We are absolutely elated that our first novel, Michael's Reward has won the top prize in its category and we are grateful to the NIEA for this recognition."
"We appreciate you, we applaud you and thank you for your great work. You are contributing to make independent publishing a great sector in the literary community," said Ellen Reid, President of the National Indie Excellence Book Awards http://www.indieexcellence.com.
For more information please contact; michaelsreward(at)yahoo(dot)com
Or visit our website; http://www.michaelsreward.com/