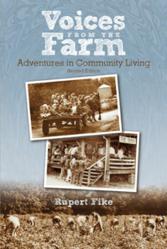 "We created our own diaspora…. We are bound by religion, by language, by institutions, by land, by diet, by this unique experience we called The Farm."
Summertown, TN (PRWEB) August 09, 2012
At the height of the counter culture movement, several hundred hippies drove their school buses from San Francisco into southern Tennessee and founded America's largest, modern-day, intentional community, The Farm. This new edition of Voices from The Farm now includes classic images that capture the spirit of the time and bring into sharper focus the stories of idealism, determination and even disenchantment that shaped the community's early years.
Presented chronologically, these memoirs are written by former and current members. The stories were edited by Rupert Fike, whose collection of poems, Lotus Buffet (2011, Brick Road Poetry Press) recently earned him the Finalist award (2nd Place) as Georgia Author of the year. Rupert is among the scheduled authors to give a reading at the Southern Festival of Books in Nashville, TN this October.
Readers view both everyday life and main events, feel the hopes and fears and witness the successes and failures that occurred during the early evolution of what has become one of the largest social experiments of its kind. In its heyday, The Farm was home to over 1,500 optimistic young people and the young-at-heart. Thousands of individuals received shelter and healing within the nurturing arms of the community.
Book Publishing Company, founded in 1974, was one of the first business ventures. Early publications included the first edition of Spiritual Midwifery, Hey Beatnik!, This Season's People, The Farm Vegetarian Cookbook and the million-seller Big Dummy's Guide to CB Radio. Today it is an independent press with over 250 titles whose main genre are books on plant-based nutrition and cuisine and alternative healing.
The Farm is still a vibrant place of change. The Farm Midwives have been instrumental in re-educating women on the option of natural childbirth and returning the sanctity of birth to the family. Ina May Gaskin is world renown and lectures internationally to midwives and physicians alike. Plenty International is involved with projects in Belize, Guatemala, Pine Ridge Indian Reservation, and the Gulf Coast.
There is a world-wide network still shared by former residents and their families, many who feel a deep sense of connection and home years after leaving. As one member explained, "We created our own diaspora…. We are bound by religion, by language, by institutions, by land, by diet, by this unique experience we called The Farm."
Interwoven throughout these pages is the wonder, fun, love, lasting friendships and great pure effort that were and are part of the experience of living in community. The Farm's legacy — while still being defined — is composed of many voices. These are some of them.