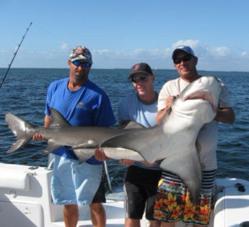 Chicago, IL (PRWEB) August 28, 2012
The main problem with all directories from the listed service provider's perspective is the potential client must be actively seeking out the service. Reelfinatics.com ties its directory members (FREE and Premium) to fishing pictures and videos uploaded by recreational fisherman, charters/guides, lodges and fly/tackle shops. Reelfinatics directory member, "Mark The Shark" from Ace Monster Fishing, featured on many fishing shows including Trev Gowdy's Monster Fish and received multiple awards including Best Fishing Show of the Year 2009, Best of Business 2010 Miami Boats Rental & Charter Award and the 2011 Miami Award-Best Charter Boats shared why he listed his charter business on Reelfinatics. "Reelfinatics has a unique platform and it's a very clean and rich looking site. Most importantly, Reelfinatics brings my business to potential clients' eyes in a way no one else does." When an affiliate directory member's fishing picture or fishing video is selected for viewing, they receive the top listing on the left or right side of the media. The following listings are based on the affiliate's distance from the catch.
"Our platform is unique because when fishing pictures or videos go viral, services will get unparalleled exposure. Reelfinatics.com brings the directory listings to users seeking fishing entertainment Reelfinatics Affiliate Members can accommodate," says Ray Franze, Reelfinatics Managing Member and Founder. "When fishermen, guides/captains, resorts, marinas or outfitters upload fishing pictures and videos, not only does the media go to Reelfinatics' platform, they can also go to our members' Facebook, Twitter and Google + accounts for all their friends to see. This also aides Reelfinatics' viral marketing approach by boosting our affiliates' reach." He went on to add, "To give every member and affiliate more control over their content, each member has a profile/admin page where they can add photos and videos plus update and delete existing media uploaded to their profile. Affiliates can also update their directory description whenever they want."
Reelfinatics looks forward to helping its Directory Affiliates expand their exposure while providing digital platforms to deliver shared media at home and soon on the go. Please contact Reelfinatics with any questions or comments.
Reelfinatics...Live To Fish. Share Your Passion.
For Further information you can visit reelfinatics.com or contact Ray Franze, Managing Member and Founder of Reelfinatics LLC at rayfranze(at)reelfinatics(dot)com or by calling (847)834-4557.
About Reelfinatics LLC
Reelfinatics was born from a nagging frustration that fishermen needed organized, fully dedicated, on-demand digital platforms to see pictures and videos of their favorite species. Fishermen deserve a high quality digital platform to store update and share their fishing pictures and videos. It also gives members the ability to document, save and buy tackle, store their favorite fishing holes and a calendar that will sync your busy life with your next fishing adventures. This was Reelfinatics in its purist form. The concept quickly evolved into much more than pictures and videos. Reelfinatics' directory platform is designed to give guides, charter captains, marinas and lodges unparalleled exposure. It also provides a place for them to differentiate themselves from their competition. With catch and release practices in place, guides and charters are just not hauling every fish they catch back to the dock to show off. Reelfinatics' platform has solved the marketing goal of connecting service providers within the fishing community to shared user-end content that is being viewed by their target market.