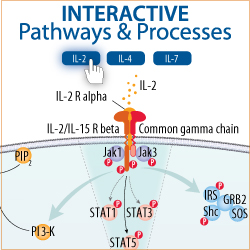 Minneapolis, MN (PRWEB) August 06, 2012
R&D Systems is excited to introduce Interactive Pathways & Processes to the growing list of reference tools for researchers. These new fully-interactive pathways allow users to explore multiple biological processes, including Apoptosis, Wnt Signaling, Th1 Differentiation, and many more.
Each illustration includes links from molecules in the pathway to products available from our catalog of more than 20,000 reagents for cell biology research. Every pathway also includes additional scientific information that can be accessed through user interactivity and a detailed description of the processes being shown. Quickly browse the information for scientific reference or click to see a full list of premium quality reagents, sizes, and pricing. As an added benefit, each pathway is available upon request as a free printed copy that can be saved for reference.
The number of pathways that are available will be rapidly expanding and every pathway will be regularly updated with the latest product information. Please visit this new section of our website frequently to check out the latest pathways and find new products available for your research.
R&D Systems is committed to supporting researchers with scientific information that equals the premium quality of our products. Historically known as a world leader in the development of reagents for cytokine research, today we offer more than 12,000 high performance antibodies, the most referenced collection of bioactive proteins and immunoassays for cell biology research, and a wide selection of multiplex assays for the simultaneous detection of multiple analytes using different detection platforms.