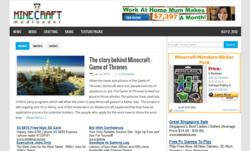 The biggest change will be the way single player mode operates. This will work as a kind of shell on top of the multiplayer mode, assuring a much smoother experience.
Phoenix, AZ (PRWEB) August 05, 2012
The PC version of Minecraft has just been released, adding a wealth of new features to the game, including trading, adventure mode, cheats, bonuses and much, much more. Known as version 1.3, the update was released last Wednesday.
Minecraftmodloader.org, the leading independent news and updates site for the popular PC game Minecraft, said that the new update was one of the biggest and boldest undertaken by the games developers so far, adding a whole new experience again. The developers had also taken into account user feedback, before incorporating this into the changes.
The biggest change of all is the new Adventure Mode, which allows players to create their own adventures and develop their own stories for other players using a special new block known as the Redstone Command Block, which gives designers the ability to program new scripted events in the game.
For example, a simple adventure would be a standard fetch quest created by the player, wherein he would go to collect a certain item to gain experience. The complexity of the adventures would depend entirely on the user creates them.
Together with the new Adventure Mode, players will now have the ability to trade items with villagers. They can buy and sell items, and they can even use newly added emeralds to enchant certain items. This is an important development because users will be able to place blocks or destroy them while in Adventure Mode.
Another important new feature is the new Demo Mode, which allows non subscribers are three five-day trial of the game in single player mode. In addition, there is a wealth of new items for players to collect, including Ender chests, tripwire, writable books and much more.
Dan Lim, editor of Minecraftmodloader.org, said he was delighted that the developers of Minecraft had taken their ideas on board:
"It's no secret that we, as well as many other gaming experts took part in discussions regarding the latest update. What was unexpected was that the developers would take on board so many of our ideas – of course we're delighted that they have chosen to do so, and were sure that gamers will have a much more enjoyable experience because of it."
The updates are available to download now. Minecraft gamers can download the new version 1.3 by following the instructions in game.
About Minecraftmodloader.org
Minecraftmodloader.org is the leading independent news and updates website for the popular Minecraft game. Updated daily with all the latest news, rumors, hints and tips, the website has fast become the number one resource for thousands of Minecraft gamers around the world. For more information, visit the website at http://www.Minecraftmodloader.org.