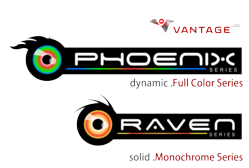 "This is a perfect storm brewing for Vantage LED with a strong team of industry professionals, high caliber products, and valuable resources for our clients." Paul Martin, Director of Marketing
Corona, CA (PRWEB) August 06, 2012
Chris Ma started Vantage LED in 2003. After several years in the LED sign industry, he saw the need for a LED sign manufacturer that would not only build the highest caliber product, but dedicate itself to being a valuable support resource to its dealers and OEM partners. He committed himself to crafting a product that was friendly to the dealer, their client, and to the installer in the field.
"This is a perfect storm brewing for Vantage LED with a strong team of industry professionals, high caliber products, and valuable resources for our clients," Paul Martin, Director of Marketing
After 9 successful years, Vantage LED proudly announces the launch of its new branding showcasing a new generation of LED sign products: Phoenix™ Color and Raven™ Grayscale LED Display Series. Vantage LED has a streamlined, systematic production team that delivers this superior product line in an attractive lead time for the industry dealer. All designed, manufactured, and supported with pride in the USA.
The Phoenix™ Color and the Raven™ Grayscale Series.
With bold colors, the highest contrast ratio, and superior quality construction, sign dealers will recognize a difference in appearance and performance to other LED displays. Vantage LED hosts a variety of features and benefits for dealers to help set them apart from the competition. The Phoenix™ and Raven™ Series is the result of meticulous engineering with attention to every detail featuring:

High Contrast Quick Release LED Modules: High quality LEDs for superior color coupled with a unique louver design for a high contrast ratio. Quick release two point latch system that has no screws to lose.
Conformal Coated Power Supplies: A protective coating on the internal electronics further protects the power supply from condensation and breakdown increasing the life by 25%.
Dragon Skin™ High Performance Coating: An industry first, this resilient, environmentally safeand "green" highly scratch resistant coating that allows general expansion/shrinkage of metal cabinets.
Darwin™ Solid State Control Unit: An internal video PC controller (powered by Intel) that handles the most demanding high resolution graphics or video featuring a 40 gig solid state drive for low heat and increased performance.
Vantage LED has an in-house software team that developed powerful, yet simple to use, software called LightSpeed™ Media Software to operate their new product line with features like:

Supports all Windows fonts & International languages.
Easy to use scheduling feature to schedule messages from specific dates, individual days to years in advance.
Hot Button to send out a quick or important message within seconds.
Overlay feature allows user to overlay text, time, or temp over a graphic or video instantly.
Zone Mapping allows user to partition the display for multiple message areas within the display.
Time & Temperature function scalable to place anywhere on the display.
Upload pre-created graphics or videos made from any third party software.
For Billboard applications, the software team has developed LightForce™ Billboard Management Software which allows the client to have complete control of their advertising network with proof of performance, custom reporting and billing, and scheduling options with smart space validation all from one intuitive interface making ad management easier than ever.
Vantage LED is the fastest growing U.S. based manufacturer of superior LED signage. Supporting a competitive and successful dealer network in both the United States and internationally, Vantage LED has risen to be a formidable contender and loyal partner. The success and solid growth of Vantage LED is due to its unique ability to produce a highly reliable, technologically advanced product at a competitive price from its state-of-the-art Southern California manufacturing facility. For more information on Vantage LED or its superior product line please visit their website at http://www.VantageLED.com.
Vantage LED is a subsidiary of Tradenet Enterprises, LLC; a California based company with headquarters in Corona. For new Dealer information, please contact Josie Salitrero, National Sales Manager at (888) 595.3956 or Dealers(at)VantageLED.com.
Never An Ordinary Experience.