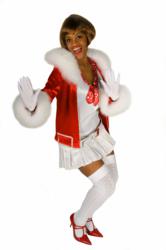 We're looking for Bay Area kids ages 5-25 who love to sing and dance!
San Francisco, California (PRWEB) August 02, 2012
Since 1985, John Bisceglie has created, directed and choreographed hundreds of community, commercial, and professional productions featuring actors of all ages. For nine years, John held the title of Artistic Director for San Jose Parks and Recreation's Young People's Theater, and has also served Gilroy's Community Services Department since 1991 (43 productions). John founded The San Francisco Children's Musical Theater in 2010, presenting "That Kid Can Sing!", and brought his unique brand of children's theater to the Bay Area in 2011 with SFCMT's debut main stage production, "Rock-N-Roll Reunion", followed by "Gleeful Live!" in March of 2012.
John is now combining his two theater groups, The Gilroy Children's Musical Theater and the San Francisco Children's Musical Theater, to produce an epic roaring 1920's black and white movie musical entitled "ROAR!". This all singing, all dancing musical celebrates the razzle dazzle of Hollywood's golden era, and offers a variety of singing, dancing and speaking roles for local youth ages 5-25. In addition to featuring local kids, his production will present a few musical numbers with parents/guardians and baby siblings, providing opportunities for the participating families to take part in the fun.
"Our goal is to bring new life and love to classic hits from the 1920's", expressed John Bisceglie. The film features a hit parade of over 75 songs from both stage and screen including "If You Knew Susie", "Baby Face" "Me and My Shadow", "A Pretty Girl is like a Melody", "Cheek to Cheek", "Anything Goes" "All that Jazz", and more. "In addition to singing and dancing, we will film short vignettes featuring the likes of Al Jolson, Shirley Temple, Eddie Cantor, May West, Charlie Chaplin, The Little Rascals, and Charlie McCarthy. You can bet that there will be a classic pie fight!", chuckled John.
The film will premiere in March of 2013 at the Castro Theatre, San Francisco's elaborate and historic 1400 seat movie palace built in 1922. The interior takes you back in time with its luxurious and ornate decor, and a dramatic "Mighty Wurlitzer" pipe organ will entertain family and friends prior to the screening. "We are thrilled to expose a new generation to a classic cinema experience that heralds America's love affair with going to the pictures in the early part of the twentieth century".
The convenient 10-week program, with one 1.5 hour rehearsal per week, makes participating fun and easy for busy Bay Area families. Our South Bay cast will rehearse on Thursdays in Morgan Hill and our San Francisco Bay cast will rehearse on Saturdays in the City.
"Each cast member will wear a sparkly, elaborate 1920's style costume, complete with period wigs for the girls. In order to really capture the glitz of the era, we'll use lots of sequins, rhinestones, feathers, baubles, bangles, and beads...a trademark of my productions", said John.
Cast members will work on a green screen movie set, as well as on location with Nils and Mattie Myers of 152 West Productions, who also co-created the "Gleeful!" film.
Singers will record their vocal tracks in a professional recording studio, prior to filming their songs on camera. Vintage homes, cars, and props will be used to help set the scene.
John concluded, "I'm excited to combine the talents of both of my theater groups to create one spectacular movie musical. I've always loved the glitz and glamour of old Hollywood and Ziegfeld follies, and look forward to re-creating the style and grace in "ROAR!".
Gilroy Auditions: Saturday, August 25th. 11am-4pm. Gilroy Center for the Arts, 7341 Monterey Street, Gilroy, CA 95020
San Francisco Auditions: Saturday, September 8th. 11am-4pm. King George Hotel, 334 Mason Street, San Francisco, CA 94102
For more information or to make an appointment to audition, please visit: http://www.sfcmt.com