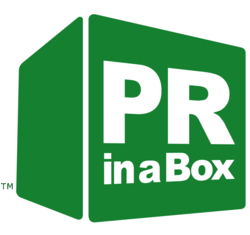 The same tools that helped build client companies from $10 million in sales to $35 million in three years.
Vancouver, BC (PRWEB) August 02, 2012
PR in a Box, a "do it yourself" small business PR kit, has officially launched to much entrepreneurial acclaim, making it possible for small business owners to get media coverage and create a buzz around their business without breaking their budget.
The PR tools used to help grow businesses like 1-800-GOT-JUNK?, Denny's and the Heart and Stroke Foundation of BC and Yukon are now available to the general public at extremely affordable prices.
Providing downloadable small business PR modules such as Guerrilla PR, Crisis Communications, and Social Media for $29 each, the website claims to sell the same tools that helped build client companies from $10 million in sales to $35 million in three years. Each Module contains templates, tips and samples which claim to make it easy for the 'Average Joe Business'.
The small business PR company was founded in 2009 by Melissa McAfee after she saw an obvious need for affordable and accessible public relations. McAfee was the PR Manager at world-renowned and Oprah featured, hyper-growth company 1-800-GOT-JUNK? McAfee brought on partner Erin Whalen in 2012 (CEO and Founder of Made You Look Online) to build the online marketing and social media side of the site.
"So many companies are spending a fortune on PR," says McAfee. "And those people who aren't spending the money, don't realize how important it is. I worked at agencies. I saw the strategizing and white boarding. Clients got a little bang for a lot of buck."
The average retainer fee at public relations agencies ranges from $2000 per month upwards to $8000 per month. The entire PR in a Box kit retails for $200.
"From the grassroots product and service sales, up to larger franchise sales, getting publicity and getting your business out in front over everybody is the biggest part of the process. We want to make that process simple and easy. Even Bill Gates says he'd spend his last dollar on PR. But then he probably doesn't need to worry about that," laughs the self-proclaimed Publicity Princess.
-30-
For more information on prinabox.ca please contact Melissa McAfee at melissa@prinabox.ca – high resolution logos available upon request -