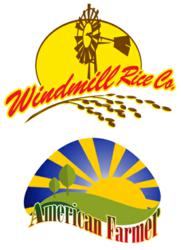 Jonesboro, AR (PRWEB) August 11, 2012
Windmill Rice proudly announces their participation in an upcoming episode of American Farmer.
Windmill Rice maintains a proud tradition of providing the highest quality milled rice for its customers. With a state-of-the-art facility located right in the heart of rice country, Audiences will go behind the scenes of one of the premier rice farms in America.
This particular episode will focus on modern farming techniques. From advanced farm machinery, to breakthroughs in farming practices, American Farmer viewers will take an in-depth look at how technology is influencing the way we produce food in the US.
"Most Americans don't have a clear picture of what a rice farm really is," said Barbara Perry, producer for American Farmer. "I look forward to highlighting the Windmill Rice farm for our viewership."
In this segment, American Farmer travels to Jonesboro, Arkansas. Host Charlie Allen is set to take American Farmer audiences nationwide on what will surely be an exciting tour of Windmill Rice.
About American Farmer:
American Farmer is a breakthrough program on a mission to showcase the latest advancements in agriculture and farming. From seed to harvest, livestock and more, our producers have traveled the country covering the people, places and issues impacting all areas of farm country.
American Farmer attracts a large farm and ranch audience along with a loyal following of city viewers who want to remain connected with country living and the business of agriculture.
For more information visit: http://www.dmgproductions.org or call (866) 496-4065.
About Windmill Rice:
Founded by farmers who understand the benefits of a closer relationship with the customer, Windmill Rice Company has taken the industrial rice supply chain back to its roots - and into the 21st century. We've built the nation's first new, state-of-the-art milling facility - and we've located it in the center of the nation's rice producing region.
For more information, visit: http://www.windmillrice.com or call 870-932-0096.