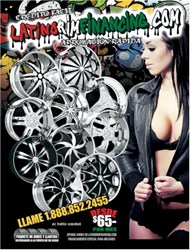 Roanoke,Virginia (PRWEB) August 21, 2012
Specializing in financing for chrome rims, painted rims, black rims, and mobile electronics,
Latinorimfinancing.com offers custom rim packages complete with tires mounted and balanced, and they ship directly to their customers' door. Latinorimfinancing.com realizes that in today's economy, tightening purse strings may hinder folks from big ticket purchases like custom wheels and tires, so they've pioneered a solution. Allowing consumers to finance the purchase with a small down payment and low monthly payments eases the sting of the custom rim purchase and makes for a happy buying experience all around. With the addition of a second Spanish-speaking sales team member, latinorimfinancing.com is now able to focus on the primarily Spanish-speaking consumer and offer them great deals on financing for rims and tires, black wheels, painted rims, chrome rims, and mobile electronics.
Latinorimfinancing.com is owned by Patriot's Custom Wheels, the leader in the custom rim financing market for almost a decade. Visit their other website at http://rimfinancing.com, the rim and tire fitment specialists at latinorimfinancing.com guide their customers step by step through choosing the right rims and tires for their vehicle and finalizing the rim financing process. The wheel and tire packages offered are delivered to the customers' door, mounted and balanced with a free locking lug kit. With over 25 years combined experience in the custom rims industry, automobile enthusiasts can't miss when choosing latinorimfinancing.com.