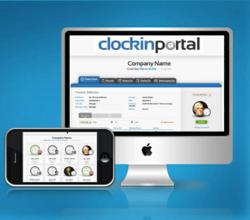 There is no better or more accurate way to keep track of employee work hours
Los Angeles, CA (PRWEB) August 02, 2012
Companies know that Web-based time clocks provide great ROI and give managers and employees a welcome flexibility in checking the system for up-to-date information. However, the wide variety of Web-based applications available can make it difficult for employers to find the system that best suits their needs.
When selecting a Web-based time-tracking system, organizations should consider the number of employees to be included, the business locations involved, their Internet access, and the kinds of features they want linked with the time clock application.
ClockIn Portal now offers numerous features, including payroll management, and capability to send e-mail and announcements within the system, either to selected recipients or organization-wide. ClockIn Portal also scales well, so company expansion presents little difficulty, and the system can be integrated with various platforms, including mobile devices.
The cost of implementation is always a factor for businesses and represents a major priority during difficult economic times. ClockIn Portal has several pricing options available to meet the requirements of organizations of any size.
The most effective way to select a time-tracking application is to try it out. Visit the online demo at the ClockIn Portal website for a hands-on experience with this advanced Web-based time-tracking system. Then sign up for a free one-month subscription to give the application a real workout under real-world conditions.
About ClockIn Portal Inc.
Based in Los Angeles, California, ClockIn Portal, Inc., has developed a flexible and easy-to-use time- tracking solution for the Web. We constantly update our application in response to customer feedback, ensuring that organizations have access to a time-tracking solution that is affordable, scalable, and easy to learn.
ClockIn Portal staff recommends trying out the online demo, and then sign up for a one-month subscription at no cost. See how the features of ClockIn Portal will help your organization save time and money.
Contact
ClockIn Portal, Inc.
1-800-719-4117
support(at)clockinportal(dot)com