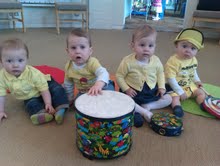 It has been an inspiration to work with so many fantastic children and their families over the past 10 years.
Solihull, West Midlands (PRWEB UK) 9 August 2012
Birmingham South and Worcestershire North Rhythm Time music franchise for babies and young children has just celebrated its tenth anniversary with a fun filled week of exciting songs and activities.
To mark this special occasion, all classes during the anniversary week in July had a party atmosphere with a theme of wearing yellow. The children sang birthday songs, danced and played along with percussion instruments. Fund raising also took place in order to support Birmingham Children's Hospital, where owner Vicky Taramasco worked prior to running Rhythm Time.
Rhythm Time music franchise owner Vicky Taramasco said, "it has been an inspiration to work with so many fantastic children and their families over the past 10 years. Watching children grow and develop from tiny babies until they go to school is truly rewarding."
Rhythm Time's unique sets of music courses have been specifically written for the different age groups: babies, toddlers and pre-schoolers. Children progress through the different age group classes making a seamless transition at their key developmental stages.
Vicky bought her Rhythm Time music franchise in 2003, having previously worked as a Paediatric Oncology Nurse at Birmingham Children's Hospital. Having a love for music, playing the piano and clarinet when younger, coupled with a passion for working with children inspired Vicky to take on her franchise.
"When I started Rhythm Time, I ran just 6 classes to 'test the water'," says Vicky. "It was an immediate success and I was quickly able to expand across the area. With the support of a fantastic team we now run 96 classes and go into many nurseries. My current favourite project is our work at Birmingham Children's Hospital where the speech and language department have recognised the value of our programme and have asked us to come and work with the patients on the wards," she adds.
At a recent annual meeting, Vicky also won a Dedication Award for her continued commitment to growing her successful business.
There is much evidence that suggests that music has a very powerful effect on pre-school children. Playing along to music with instruments helps children express and communicate their ideas. The rhymes can help children understand how language works and the way sounds can be predicted.
Research also shows that babies need to have all their senses stimulated. Rhythm Time's music classes for babies aim to stimulate vision, listening and sense of touch by using songs, percussion instruments and a wide range of sensory activities with specially chosen music.
At around 15 months, music classes for toddlers offer a completely new set of courses created to help a child's confidence, creativity and co-ordination.
Toddlers learn to listen and improve their concentration with the help of Rhythm Time's puppet Rat-a-tat. Hand/eye co-ordination and motor skills are strengthened by using a wide variety of instruments.
From three years, music classes for pre-schoolers provide an ideal preparation for going to school. Music notation is introduced to the children and they learn to recognise a variety of musical signs. They listen to brass, woodwind and string instruments and learn to conduct the class band!
Each term there is a CD to accompany the toddler class, which is included in the price of the classes. Also included in the price for the baby classes is a book specially written to give parents a guide to further stimulate their babies' senses outside of class.
Parents are invited to enjoy a free trial session before they decide whether they would like to book up for further sessions.
Rhythm Time is an established company with music franchises all over the UK. All of Rhythm Time's franchisees share a passion for music and a love of working with children. Owning a Rhythm Time music franchise also enables them to enjoy a career that fits around their own family commitments.
For a free trial at a Rhythm Time Toddler, Pre-school or Baby music class, or for more information on owning a Rhythm Time music franchise, call 0121 711 4224 or visit their website at rhythmtime.net
Information For Editors
Rhythm Time Marketing
0121 711 4224
Vicky and her team teach baby, toddler and pre-school classes, Monday to Saturday, across South Birmingham and North Worcestershire in 22 locations, including Harborne, Quinton, Selly Oak, Kings Heath, Kings Norton, Barnt Green, Wythall, Bromsgrove, Droitwich, Redditch and surrounding areas.
Donations given during birthday week (2nd - 7th July 2012) raised money for Birmingham Children's Hospital. Half of the money raised will be going to the Oncology unit where Vicky used to work. The rest of the money will be used to pay for musical instrument bags given out to the hospital children for special Rhythm Time music sessions in association with the hospital's speech and language department.
Kathy Doolan, owner and founder of the company, is a firm believer in the power and importance of music for babies, toddlers and pre-school children. She started Rhythm Time in the Midlands in 1995 and is a graduate of the Royal Scottish Academy of Music.
Rhythm Time now has franchises all over the UK, operating in 190 areas with approximately 10,000 children attending classes weekly.