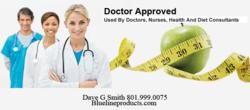 Helping you Helping others to reach their weight loss Goals!
Spanish Fork, UT (PRWEB) August 02, 2012
Blueline Products Company must expand its wholesale base in order to keep up with the fast paced growth it has experienced. In order to meet the demands of this continued growth, the firm must broaden it's wholesale base. Industry watchers have noted that: "Blueline Products is at a point where many businesses have problems keeping up with their growth. It makes sense for them to pursue retail as well as wholesale expansion". Blueline Products currently has Weight Loss Dealers/Distributors throughout the world.
Dave G Smith, CEO of Blueline, says: "We love the fact that we are growing at a record rate, but we must add to our team, in order to support the growth", "We have Affiliates and Dealers who started out on the kitchen table, and now have their own employees", He goes on to say: "This is the American Dream, still alive at Blueline Products".
Blueline Products offers a line of liquid nutriceuticals. Scientists at Blueline Labs discovered how to micro-encapsulate their formula into a liquid. So potent, that they claim only a few drops kicks the metabolism into high gear. They have Testimonials and Clinical Studies to support their claims.
One thing for sure, is the fact that they recently passed the "one-million bottles sold" milestone, and that is just for one item. Blueline Products has proven that they are here to stay, and have quickly risen to the top of the weight loss industry.
The company provides complete support for their wholesale division, including: Turnkey Websites, Affiliate Banners, Product Literature and ongoing personal consultation. Recipe eBooks, Weight Loss Protocols, and Personal Journals for the end users notes, are all available to aid success.
This, and other items, are now available at their online store: http://myhcgwholesale.com/
Dave G Smith, CEO, has on ongoing commitment to pressing forward with in-depth research into the best ways to deliver nutriceuticals to the public. Blueline Products has already changed the landscape in the weight loss industry with the release of their line of micro-encapsulated liquid formulas. Many more cutting edge products can be expected in the near future.