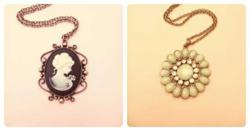 Gemma said: "This is my favourite out of all of our cameo designs; the long chain and the bold pendant make this a perfect on-trend choice for this season. Wear this necklace with a plain top so it can really stand out."
(PRWEB) August 03, 2012
BobbyGlam, who are renowned for their clip in hair extensions, also have a range of vintage jewellery available online; they have now revealed their top pieces of vintage style jewellery for this season.
Vintage jewellery has become increasingly popular in recent years and has been seen on runways and adorning celebrities on the red carpet; it is now a huge trend on the highstreet too.
BobbyGlam offers a vast range of vintage jewellery which takes inspiration from a variety of different eras and styles.
BobbyGlam name the Turquoise Art Deco Beaded Ring as one of their top pieces of vintage jewellery; the ring is comprised of turquoise beads which stand out against the gold coloured band and claws.
Gemma from BobbyGlam said: "This is my personal favourite; I absolutely love this ring. It's such a statement piece and the colour is just gorgeous. I would wear this with a plain outfit to ensure all eyes were on the ring."
The 50's inspired Floral Posy Drop Earrings also appear in BobbyGlam's top pieces of vintage jewellery. These earrings start with a jewel and then fall into a golden bow; this is followed by the posy which is designed with peach enamel flowers with pearlescent silver centres.
Gemma said: "These earrings are super girly and they would work well with so many different looks and outfits. I would style my hair up to show these off."
Cameos are an iconic image for vintage jewellery and BobbyGlam have selected the Vintage Cameo Necklace as one of their favourite pieces. The Vintage Cameo Necklace has a black background which ensures that the white silhouette stands out. The pendant is finished with a delicate filigree frame and hangs from a long chain.
Gemma said: "This is my favourite out of all of our cameo designs; the long chain and the bold pendant make this a perfect on-trend choice for this season. Wear this necklace with a plain top so it can really stand out."
Next, BobbyGlam name the Vintage Trinkets Statement Bracelet as one of their top vintage jewellery pieces as the pastel shades and the floral trinkets capture the vintage theme perfectly. The bracelet has an assortment of delicate trinkets which creates a feminine finish and can be worn to create a variety of different looks.
Finally, BobbyGlam say the Vintage Art Deco Style Flower Necklace is one of their top vintage jewellery pieces for this season. As with the cameo, this pendant sits on a long chain; the flower pendant has a clouded bead centre and petals with delicate jewels in between.
Gemma said: "This necklace is beautiful; I love the way the stones have been cut as they catch the sun for a lovely sparkle. This necklace is available in black and white, so it's a necklace for all occasions."
BobbyGlam offer an assortment of on-trend vintage jewellery; these can be viewed on the website along with clip in hair extensions, hair products, and hair tools.