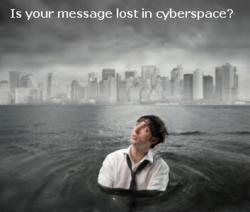 We've never had such enormous soap boxes, but we're all talking at once, so very few are heard.
Nelson, B.C., Canada (PRWEB) August 02, 2012
The Internet empowers people to communicate as never before, says a Canadian college educator, but the clamor for online attention means most messages go nowhere because the people relaying them lack relevant knowledge and skills. Frustration and failure are often the results.
Author and business communication specialist Steve Bareham, a marketing instructor at Selkirk College, says eBook authors and bloggers who are trying to earn livings, face millions of competitors.
"The law of big numbers dictates that very few will succeed. It's an odd paradox that we can literally reach out to the world in minutes with an online post, but shooting blind into cyberspace is frustrating, pointless and even damaging. We've never had such enormous soap boxes, but we're all talking at once, so very few get heard.
"There were only 16 million people accessing the Internet in 1996; today there are about 2.3 billion, and that's happened in just 16 years. It's the most dramatic technological uptake in history. It's likely that the Internet and World Wide Web will be seen in the year 2100 as more impactful on societies, economies, and politics than anything before, including Gutenberg's press, radio, and television."
Bareham says easy, free access and introduction of revolutionary eBook technology and retail eBook stores, have created a deluge of authors flooding online to sell their wares. "Many are competent writers, and the draw to get published is alluring. But few are skilled online marketers, and without the second skillset, finding reader audiences isn't likely. Millions of eBook authors are banging their heads against walls and spending promotional dollars fruitlessly as they try to get noticed. It's not easy getting noticed when Amazon, alone, lists 10 million books!
"My point isn't that people should succumb to helplessness; effective communication is fantastic. My point is that people who have to communicate online should know how to do it well."
He says three knowledge areas are crucial to succeed. Authors must know how to:
1. Think critically
2. Target and segment
3. Use viral leveraging to spread message fan out
"Publishing might not seem connected to critical thinking, but use of good cognitive process has never been more important. Communicators and marketers must understand interpretation, analysis, reasoning, inference, logic, and synthesis in order to assemble and implement a marketing plan. Most people think they understand what those six thinking words mean, but I can testify that the majority do not. Their real meanings and applications are not taught in 99 per cent of schools, and if people don't know what they mean, they don't know how to do them.
"Critical thinking and good analytical skills lead into targeting and segmentation, both crucial to avoid wasting time and money. Without these, authors will market shotgun fashion which is inefficient. And viral leveraging is vital because few of us can reach enough people; we need others to help spread our message.
"Just a couple of days focusing on the right knowledge and skills can spell the difference between surviving or drowning. Surviving is better, and knowledge is the lifejacket. Like everything else our hyper-competitive species does, unprepared people will end up as disenfranchised, ill-equipped victims at the bottom of the communication food chain."
Bareham blogs about these issues, and offers solutions, at: http://www.ebookauthor.net and he recently released two eBooks to help web communicators get messages out effectively: eBook Author Success Guide, and Think Well & Prosper: A Critical Thinking Guide.
FREE EBOOK DOWNLOAD: The eBook Author Success Guide will be available for free download Aug. 4-5 through Amazon.com. Go to the website URL below. Content previews and tables of contents also available.
eBook Author Success Guide, free on dates noted, but normally $4.99: http://www.amazon.com/eBook-author-success-guide-ebook/dp/B008FCBT5K/ref=sr_1_3?s=digital-text&ie=UTF8&qid=1343149076&sr=1-3&keywords=Steve+Bareham
Think Well & Prosper, $9.99: http://www.amazon.com/Think-Well-Prosper-ebook/dp/B008FF6TZW/ref=sr_1_5?s=digital-text&ie=UTF8&qid=1343149076&sr=1-5&keywords=Steve+Bareham
-30-
Summa Publishing: http://www.summapublishing.net
Contact Steve Bareham: summapublishing(at)shaw(dot)ca
Review copies and content previews available