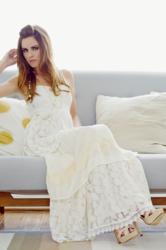 "But whatever you wear, always dress to kill."
Los Angeles, CA (PRWEB) August 10, 2012
The Champagne & Strawberry team is proud and excited to announce the opening of the official Champagne & Strawberry online boutique. Please visit brand's online boutique at http://www.ChampagneNStrawberry.com. The new shop features a vintage-inspired premium collection and you could buy it directly from designer, not department stores or speicialty boutiques.
Champagne & Strawberry is a vintage-inspired collection, drawing heavily from a warm color palette of pastels, the soft textures of lace and silk, and a romantic aesthetic that conjures a timeless fashion sensibility. While the collection captures the feel of classic eras of fashion thru time, its design is forward-thinking in concept.
"Embellishments, silk, floral, lace, and ruffles are revived from the 1920s and the 1940s eras of fashion to bring subtle elegance to modern day. Staying true to its name, Champagne & Strawberry's statement color palette of soft neutrals popped with pretty brights is already gaining attention from major department stores and specialty boutiques."
– LA Runway