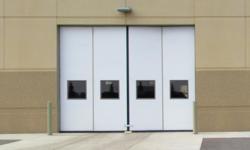 Cincinnati, Ohio (PRWEB) August 01, 2012
Commercial garage door manufacturer Clopay is introducing custom-engineered specialty doors including four-fold doors, hangar doors, crane doors, fire doors and swing doors to meet a variety of manufacturing, industrial, mass transit, public works and security applications. Each door is designed to meet specific opening size and operating specifications. All are available with both manual and power operation.
Lite/Four-Fold Doors – Built to meet the rigorous demands of securing two-way traffic openings in public works, parking, commercial, industrial, agricultural and correctional facilities, these doors provide low-maintenance costs and long service with high cycle operation. The doors can be designed to open at a rate of 2 feet per second. The panels fold completely clear of the opening allowing full, unobstructed access.
Hangar Doors – Available in a variety of configurations including tip-up, bi-fold, and various sliding panel designs, Clopay hangar doors are fabricated in factory modular assemblies with all components attached to save time and money on installation.
Clopay's tip-up door system is a single piece upward-acting door system designed to maximize hangar access and withstand high wind loads while providing a weather-tight seal.
Fire Doors – Clopay fire door systems come in single-slide, bi-parting and teleslide multi-panel configurations for use in convention centers, commercial buildings, manufacturing and industrial facilities. The doors can be UL and FM labeled for up to 4 hours with a 250-degree in 30 minute temperature rise rating. Additional options include pass doors, vision lites, power operation, and monorail cutouts.
For more information about Clopay commercial specialty doors or to locate a dealer call 800-526-4301.
About Clopay
With three manufacturing facilities and 51 distribution centers across the U.S. and Canada, Clopay Building Products is North America's leading manufacturer of residential garage doors and a preferred supplier of commercial overhead sectional and rolling steel doors.
Bringing nearly 50 years of experience and innovation to the building products industry, the company maintains a strong family of brands including Clopay®, Holmes Garage Door Company® and IDEAL Door®. Since 1996, Clopay is the only residential garage door brand to earn the Good Housekeeping Seal.
In 2010, the company launched fiberglass and steel entry door lines to complement its popular residential garage door styles. Today, Clopay is the only manufacturer in the industry to offer homeowners the option to coordinate the appearance of the two most important entrances to their home: the front door and the garage.