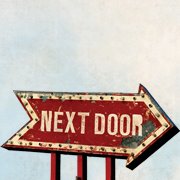 Salt Lake City, UT (PRWEB) August 12, 2012
Next Door is a creative marketing agency that includes branding, digital marketing, and business advisory services. The company originated as brand development and design production company in 2010. The company was started by two partners - Tim White and Shawn Hansen. In March 2012, Next Door merged with an online digital marketing company owned by Corey Vandenberg and Will Pettet. Also in March 2012, Luther Perkins was made a principal partner in Next Door and provides business advisory services for the firm. As a result of these three companies coming together, Next Door has released a new website providing information specific to all three areas of this integrated agency.
As an integrated agency, Next Door is able to implement their best practices into any type of new business, small business, or growing business to provide a full spectrum of services to help increase a company's return on investment while reducing costs in other areas.
Many businesses delegate their marketing and branding needs to several different people or agencies while obtaining business advisory, training and consulting from someone who is not involved with other branches of the business. As an integrated agency, Next Door knows where a business stands as a brand, with their design, in the digital marketplace, and in their social media efforts. This allows Next Door to provide sharp insight and creative solutions for each and every business.
Next Door drastically reduces the risk of business failure and in the process gives the client a greater security and meaningful wealth that can be shared by the client, their employees, their community, and ultimately, the world.
Next Door is an integrated creative agency that provides customized brand development and design, online marketing expertise, social media management and business consultation services. Visit http://openthenextdoor.com/contact/ to contact Next Door for a quote or call 801-462-2359 today!