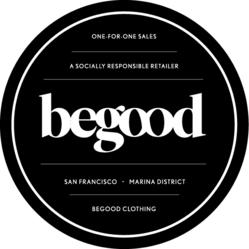 San Francisco, CA (PRWEB) August 01, 2012
BeGood Clothing is opening its doors this weekend, Saturday, August 4th. The boutique touts itself as the first fusion of San Francisco's philanthropic culture and fashion sensibility. It promises to be a socially responsible clothing store that will lead the pack in sustainability on an increasingly fashion-savvy Union Street. The store offers a dazzling selection of men's and women's apparel that supports a number of environmental and humanitarian causes at reasonable prices. Owners Dean Ramadan and Mark Spera have an eye for fashion and a heart for humanity.
BeGood handpicks clothing lines that team with charities or have their own model of giving back. From cheeky underwear of which sales benefit global eco-initiatives to dress shirts that provide books for children across Africa, BeGood's clothing is Marina shopping at its finest. Clothing connoisseurs won't compromise style to wear a cause on their sleeve.
The store features more than 35 designers and brands. Shoppers can find basics, fashionable evening outfits, and everything in between. For women, BeGood carries a host of tops, cardigans, dresses, skirts, and shorts in bright colors, prints, and more conventional neutrals. And of course, they also carry several jewelry lines to accent any outfit.
For men, BeGood carries hoodies, socks and tees, as well as a unique selection of beachwear, dressier evening sweaters, button-ups, polo shirts and ties. Men's clothing runs the gambit of colorful-preppy to alternative. Men and women alike will love BeGood's buy-one-give-one sunglasses, sandals and gifts.
In an effort to be socially responsible itself, BeGood lives by the old adage, "act locally, think globally." The company supports local non-profits, participates in charitable events (like SF Aids Walk this past July), as well as donates customers' gently used clothing to Goodwill monthly. Even the store itself is a shrine of sustainability; the floor is made of 100% recycled wood and the fixtures are all eco-friendly.
BeGood was founded on the premise that San Franciscans want their dollars to go further than the bank accounts of major apparel companies. BeGood personally teams with local charities and donates a percentage of the sales of certain clothing to support them. Each brand the store carries supports a different cause, so customers can feel good about the stylish threads they are wearing.
BeGood opens its doors Saturday, August 4th, 2012. Expect exclusive opening offers. For a list of brands that are carried at BeGood, visit http://www.begoodclothes.com or find us at http://www.facebook.com/begoodclothing and http://www.twitter.com/begoodclothing. Be sure to stop by this truly unique San Francisco clothing store, located at 2127 Union Street, San Francisco, CA 94123.