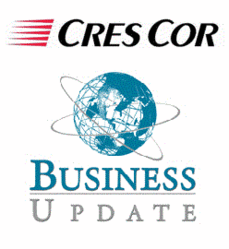 Mentor, OH (PRWEB) August 10, 2012
Cres Cor announced today that they would be featured in an upcoming episode of Business Update.
CresCor, a family owned company, has been a leader in the mobile food service industry since 1936. Located near Cleveland, Ohio, Cres Cor provides customers in the food service industry with the highest quality heating products available today.
"Our focus is to continually bring new ideas and exciting, labor and money saving products to market," said Cliff Baggott, president of Cres Cor. "We are a 72 year 'young' company always striving to improve our products, processes and ourselves."
This particular episode will focus on the latest advancements taking place in the culinary world. From high-tech food service equipment, to the latest software helping restauraunts grow their operation, Business Update: Food Service in America, is a comprehensive look at the culinary industry today.
"Cres Cor has been a leader in the foodservice industry for three generations. We always strive to create innovative new products that improve food safety and create labor saving features and benefits. We look forward to showcasing our company on the Business Update Series,"
said Cres Cor President, Clifford D. Baggott.
"Chances are, if you've been to a school, college, sporting event, quick service restaurant or a banquet, you've eaten food held hot and safe in a Cres Cor heated holding cabinet," said Charles Cowan, producer for the series. "I'm proud to be showcasing the Hot Cube 3 to our television audiences."
In this segment, Business Update viewers will be taken on an in-depth tour of how the mobile food service industry has been keeping customers well fed using the latest technology available from Cres Cor. Highlights will include the all-new Hot Cube 3, Cres Cor's latest addition.
About Business Update:
Business Update is a corporate-America type series covering the world of business, finance and technology. From Main Street to Wall Street, our award-winning producers take an in-depth look into some of the hottest topics and current trends impacting our society.
About Cres Cor:
Cres Cor was founded by George T. Baggott in 1936 in Cleveland, OH. He started his own sheet metal job shop out of a barn making a variety of parts and expanding into fluorescent lighting fixtures and drying ovens. After World War II, he began to design and manufacture commercial foodservice equipment for local businesses. The foodservice industry began to take off in the 1960's and so did Cres Cor. This was also the beginning of George's close relationship with Colonel Sanders of Kentucky Fried Chicken for whom he manufactured a series of racks and holding cabinets to warm and hold KFC Chicken. This relationship proved beneficial to Cres Cor as it was able to expand the products it offered to KFC into a full line up of mobile food-service equipment to include hot cabinets, ovens, banquet cabinets, transport racks, utility cabinets, refrigerated cabinets, dish dollies, carving stations, and food warmers.
Today, Cres Cor is led by George's son, Clifford D. Baggott who serves as President and CEO. Cres Cor's products are sold worldwide to schools, hotels, restaurants, colleges, resorts, recreations, healthcare, corrections, government, catering, business & industry, transportation, super markets etc…Cliff has been driving a renewal of Cres Cor's entrepreneurial spirit, customer relationships, excitement, mystique and adding some fun to the daily business. Over the past few years, Cliff's son and daughter have also become active in the business and they both play major roles. Greg Baggott and Heather Stewart represent the third generation of family to enter the business. Cres Cor is most recognized today for our complete line of mobile hot food holding equipment as well as distribution to markets around the world.
For more information, visit: http://www.crescor.com or call 877-CRESCOR.
Production Contact:
Rio DeGennaro
440-350-1100 x268