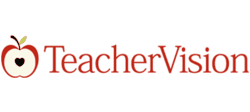 BOSTON, Mass. (PRWEB) August 21, 2012
As more than 7 million teachers around the country head back to school, TeacherVision is their headquarters for teaching tools that will ensure students have a great start to the new school year. The site's special "Back-to-School" section offers timely lesson-planning ideas and icebreakers to help teachers get to know their new students and kick off the year on a fun and positive note. Plus, as always, teachers can rely on TeacherVision for the organization tips, behavior management resources and time-saving forms they need to prepare their classrooms.
To support curriculum planning, TeacherVision, the Internet's most popular teacher site, features the "DK Instant Expert" series, which includes 36 whiteboard-compatible mini-lessons that cover 25 science and history topics from the award-winning DK reference series. Each 15-minute lesson is designed to motivate students and pique their interest in a wide range of topics, using the compelling images for which DK books are famous. The TeacherVision series also spotlights a virtual library where teachers can flip through more than 55 full-color DK reference books. The digital books will help them prepare to teach earth science, life science, physical science and history.
Recently added DK Instant Expert science topics include the Rain Forest – where students and teachers can explore the world of the rain forest, its creatures and related ecosystems – and Oceans, which takes a comprehensive look at the world's most precious resource, its chemical properties and the amazing wildlife in its depths. To support history instruction, teachers will find the new "DK Instant Expert" lesson on Medieval Life, which provides an in-depth examination of life from the Dark Ages to the Renaissance, as well as the Olympic Games lesson, which puts the modern competition into historical context.
Just as school begins this year, the Republican and Democratic conventions will be taking place. Teachers can engage students in living history with the 2012 U.S. Presidential Campaign educational resources on TeacherVision. The growing collection of materials will help kids learn more about the candidates, campaigning and the U.S. electoral process. In addition, teachers will find great printables and lesson plans for helping students hold a mock election in their classrooms or schools.
Teachers can also connect historical and current events by signing up for TeacherVision's DailyTeach, a free weekday newsletter. It offers a wealth of resources to spark "teachable moments" in the classroom throughout the year, including educational resources for this day in history and today's birthday, daily reading and math warm-ups, teaching tips and seasonal activities.
To receive new resources, timely content and exclusive educational deals, teachers can sign up for TeacherVision's other free newsletters, "Great Stuff for Teachers" and "Special Offers for Teachers." Joining TeacherVision's social networking community on Facebook, Twitter, Pinterest (http://www.pinterest.com/TeacherVision) and Google+ is also a great way to discover daily inspiration through the timely content, applicable news articles and helpful tools posted for the community to enjoy.
About TeacherVision
TeacherVision is the Internet's most popular teacher site for trusted online tools, lesson plans, printables, classroom management resources and skill-building exercises that help teachers save time and make learning fun. TeacherVision.com is dedicated to supporting children's learning in school and in life.
TeacherVision is part of Pearson, the education, services and technology company. Pearson's other primary operations include the Financial Times Group and the Penguin Group.