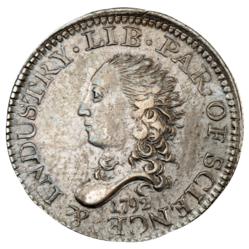 Money is history you can hold in your hands.
Philadelphia, Pennsylvania (PRWEB) August 03, 2012
More than $1 billion of historic rare coins and colorful paper money -- including the first coin authorized by President George Washington and struck in Philadelphia 220 years ago -- will be publicly displayed at the World's Fair of Money (http://www.WorldsFairOfMoney.com) in the Pennsylvania Convention Center in Philadelphia, August 7 - 11, 2012.
Visitors to the family-friendly, five-day educational event can see dozens of eye-opening exhibits including $100,000 bills, a famous $2.5 million nickel and the Washington-authorized 1792-dated silver "half disme," an early spelling of the word, dime.
"It's a homecoming for one of America's most important coins. It's about the size of a modern dime, and was struck in the cellar of a saw maker's shop at 5th and Cherry Street over two centuries ago while the United States Mint facility was still under construction," said Tom Hallenbeck, President of the nonprofit, 28,000-member American Numismatic Association (http://www.money.org), sponsor of the event.
"Approximately 1,500 half dismes were struck in July 1792. They were personally presented by Mint Director David Rittenhouse to then-Secretary of State Thomas Jefferson who received them on behalf of President Washington. Only about 400 of these coins are believed to survive today. This one is in remarkably well preserved condition and valued at $220,000," said Hallenbeck.
Among other extraordinary exhibits will be the U.S. Treasury Department's Bureau of Engraving and Printing "Billion Dollar Display" that includes two dozen $100,000 bills and other high-denomination antique money. Visitors can see daily demonstrations of a Civil War-era, one-ton, hand-turned money printing press, and can purchase the latest United States Mint special products including gold and silver bullion and commemorative coins.
In addition to the historic 1792 half disme, the ANA Money Museum in Colorado will display one of the world-famous 1913 Liberty Head nickels, valued today at $2.5 million. Only five of these fabled 1913-dated Liberty design nickels are known. This particular coin was innocently kept in a Virginia closet for four decades after the owners were mistakenly told it was a fake.
"Money is history you can hold in your hands. At this event you can see everything from half-cents to a $500 million Treasury Note. There will be educational seminars, exhibits and a children's treasure hunt trivia game with free prizes, and over a dozen mints from around the world will showcase their country's money," Hallenbeck said.
More than 1,000 professional coin and currency dealers attending the show will be buying and selling items ranging from $1 to $1 million, and many of them will provide free, informal appraisals for visitors who bring in their old money. Stack's Bowers Galleries will conduct a public auction of coins and currency.
The World's Fair of Money will be held in Hall A (2nd floor) of the Pennsylvania Convention Center, 1101 Arch St., Philadelphia. Public hours are from 10 am to 5:30 pm Tuesday through Friday, August 7 - 10, and from 10 am to 4 pm Saturday, August 11. General admission is $6. Children 12 and under are admitted free.
For additional information, visit the American Numismatic Association website, http://www.WorldsFairOfMoney.com, or call (719) 482-9867.