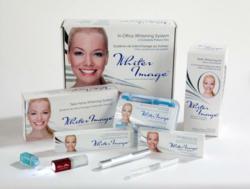 Atlanta, GA (PRWEB) August 16, 2012
Atlanta, Georgia based White Image Dental, is now partnering with dentists to offer proven marketing strategies that can increase profits during every month, including the slower summer months. Dentists can consult with one of Whiter Image Dental's marketing consultants to help them drive business.
Founding Partner Keith Rodbell said, "Our goal is to offer a complimentary service that makes it easy and effective for dentists to market their services." He further stated, "Dentists are often busy dealing with the day-to-day operations of running their practice, so they do not have the time, resources or manpower to develop and implement a marketing plan. We combine our best home teeth whitening products with effective marketing strategies, so driving dental business is almost effortless. Our clients have been thrilled with our excellent results, and their patients love having whiter teeth. Customizing our marketing strategies to meet the needs of our many dental clients is profitable and beneficial for everyone."
Unlike other dental services, patients associate teeth whitening services with pain free beauty instead of a stress-filled medical appointment. Therefore, patients will make an effort to keep an appointment, even if they have a scheduling conflict. Summer trips, family picnics and other warm weather events are less likely to affect cancellations, and when patients do cancel they reschedule promptly. This keeps whitening appointments scheduled during the entire year.
One way Whiter Image Dental's marketing strategies can help you book whitening appointments in the summer and throughout the year is to help you implement a "Spring Cleaning" special that combines a dental examination with whitening services. Patients will anticipate enjoying a whiter smile and will want to their teeth to look better. They may also be attending or planning weddings or events that may encourage them to whiten their teeth. You will schedule appointments throughout all seasons because your patients' interest in whitening will increase your confirmed appointments. Some patients will also need follow-up appointments after their initial examinations, which will also fill your appointment slots. As patients begin to enjoy their white smiles, they will naturally want to maintain them with regular appointments and whitening maintenance. Additionally, whitening appointments give you time to educate patients about dental health and encourage them to schedule necessary appointments for family members.
Whiter Image Dental marketing consultants also help you create front desk scripts, so that whitening services fill your appointment calendar. Patients may not realize you provide whitening products if you do not inform them about your services. Often they may have concerns about yellow or stained teeth. Focusing on your whitening services and products effectively encourages patients to make appointments to improve their physical appearance.
Whiter Image Dental can help you target patients and identify clients who may need whitening services and products. Summer weddings, confirmations and special Christmas parties are just a few events where potential patients may want to improve their appearance before it is preserved in photographs.
Dentists can increase their profits and enhance their sales with Whiter Image Dental's product line, which includes home teeth whitening pens, LED teeth whitening systems and other dental whitening products. Another Whiter Image Dental marketing strategy that increases dental visits every month involves providing patients with promotional whitening products. When patients test the products and see the results, many will begin to purchase them.
Keith Rodbell said, "Our popular Whiter Image Teeth Whitening Pen provides approximately 60 applications, so even if patients purchase multiple pens, they will still come to your office every few months for a new supply. Patients who purchase a single whitening pen may come as often as every few weeks. It is easy to remind patients to make cleaning appointments when they are in your office. Furthermore, patients will be visiting your office for a pain free purpose, so they may be less anxious when they need an appointment."
Whiter Image's marketing specialists can share other innovative marketing ideas that will attract patients and promote sales. Whiter Image Dental has a diverse, reasonably-priced product line, which includes whitening pens, LED lights, whitening kits and other office and in-home tooth whitening products.
Click on http://www.whiterimagedental.com to view the many innovative products that Whiter Image Dental offers. For more detailed information about Whiter Image Dental's products or marketing services, contact a marketing specialist at info(at)whiterimagedental(dot)com or dial 1-877-944-8330 to discuss your needs.