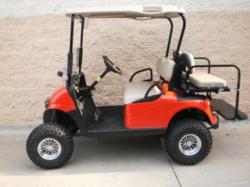 Be good to your golf cart. The old adage concerning vehicles applies to carts as well: you take care of your cart & your cart will take care of you!
Greenn Cove Spirngs, FL (PRWEB) August 01, 2012
For more than 35 years, Best Buy Golf Carts has been serving the community of Green Cove Springs, Florida with top quality new and used golf carts as well as a selection of parts and accessories. One of the most common questions the company's customers ask is how to keep their carts looking like they just came off the showroom. Now, Best Buy Golf Carts is offering a variety of tips to help answer those questions for all of its customers.
Washing a golf cart is similar to washing a car in many ways: all one really needs is some soap and water. What makes washing a golf cart more difficult, however, is the care that needs to be taken. Best Buy Golf Carts wants to make sure that all of its customers keep water away from the many electrical parts of their golf carts. The company has seen too many customers get stuck with large repair bills due to careless water sprays.
Another way golf carts and automobiles are similar is that both have a protective clear coat. This means that customers are encouraged not to use any cleaning product they would not also use on their automobile. After giving the cart a good cleaning, Best Buy Golf Carts recommends that customers use a quality auto-wax on their cart to give it that "showroom shine."
For the golf cart's interior, Best Buy Golf Carts suggests using Goof-Off to remove stains. This can be found at almost any hardware store. In addition, a quality plastic cleaner can be used along with plastic scratch removal products on the windshield. To help make future cleanings easier, Best Buy Golf Carts recommends customers use a reliable interior protectant on their cart's seat cushions. Lucas spray and wax and other golf cart cleaners are available at Best Buy Golf Carts.
About the company:
Best Buy Golf Carts has been in business in the Jacksonville area and Green Cove Springs since 1976 and supplies golf cart parts and accessories throughout the United States. Specializing in resolving golf cart electrical issues, Best Buy Golf Carts also sells new and pre-owned golf carts, golf cart parts and accessories, and builds customized carts. They are the areas only authorized Trojan & Powertron, USI battery dealer and they are a Nivel and EZGO authorized Dealer. Visit their large show room to view pre-owned, new and custom golf carts and their stocked parts room with some of the lowest prices on golf cart parts and golf cart accessories. For more information visit their website at http://www.BestBuyGolfCarts.com.