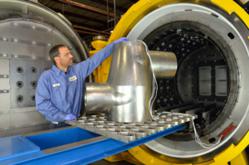 By adding these unique capabilities of the 20 bar quenching to our repertoire, we can now effectively process a wider range of materials and assist more customers than we could with our 10 bar furnaces
Hermitage, PA (PRWEB) August 17, 2012
Solar Atmospheres of Western PA recently commenced operation of a new custom-built horizontal 20 bar vacuum furnace (40" wide x 50" deep x 36" high, 3500 max load) at its Hermitage facility. Designed and built by sister company Solar Manufacturing, it is the fastest cooling furnace in the Solar fleet and one of only a few of its kind in the U.S.
The excessive pressure and high speed gas velocities of the 20 bar furnace simulates oil quenching. However, using inert gas as an alternative to oil minimizes distortion and provides a much cleaner and greener process. Solar can also better serve customers requiring vacuum carburizing by increasing core hardnesses of large cross-sections. This is a particular benefit to those in the gear industry. President Bob Hill states, "By adding these unique capabilities of the 20 bar quenching to our repertoire, we can now effectively process a wider range of materials and assist more customers than we could with our 10 bar furnaces."
The unique cooling capability of this high-tech furnace was recently put to the test by processing a 2,000lb., 40" tall valve casing with a 3" maximum cross section. This 4140 fully- machined weldment was austenitized at 1575°F +/- 10°F. After the 20 bar nitrogen quench, the resultant hardness was HRC54 with a fully martensitic structure. The part was then tempered to specifications and delivered to the customer with minimal distortion.
These results were made possible through many innovative furnace features that improve gas velocities by a factor of three. The newly designed fan and improved gas-flow system minimizes pressure drops and increased gas velocities to nearly 200 MPH. State-of-the-art technology is incorporated throughout the furnace including an interactive touch screen SolarVac™ 4000 interface and a compact design. The furnace will be commissioned to process to stringent pyrometry specifications for aerospace customers including Boeing.
ABOUT SOLAR ATMOSPHERES OF WESTERN PA
Vacuum Heat Treating and Brazing services provided by Solar Atmospheres produce bright, scale-free parts with minimal distortion. The Hermitage, Pennsylvania plant, 60 miles North of Pittsburgh, specializes in thermal processing of large, mainly titanium manufacturing parts. This facility houses the world's largest commercial vacuum furnace (5' wide x 5' high x 36' long work zone - 150,000 lb. workload capacity) which uniquely benefits the aerospace industry. With a variety of furnaces processing smaller parts, Solar Atmospheres serves 18 different industries. State-of-the-art services also include carburizing, nitriding and R&D. Additional plants are located in Fontana, California and Souderton, Pennsylvania. http://www.solaratm.com
###