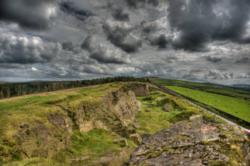 Goyt Valley is one of my favourite parts of the Peak District,
Peak District, UK, 6th August 2012 (PRWEB UK) 6 August 2012
Goyt Valley is a spectacular place which changes colour with the seasons and Peak District Online use their photography and writing skills to bring it to life.
The family run company of PDO have made it their mission to make their winning website the best in the business. They endeavour to list the largest accommodation directory serving the entire Derbyshire area. What started off as a small family run enterprise is now a website which has grown into a bit of a monster over the years they say, and is now visited by over 200,000 unique visitors on a monthly basis.
'We have visitors to the website from all over the country, but also from all over the world,' explains Steve Wake, director for Peak District Online but who is also the photographer for the brand-new page about an area he loves. 'Goyt Valley is one of my favourite parts of the Peak District, and I certainly have a few. I have been coming here since I was a child and I now bring my own children to discover its delights.'
The brand-new page dedicated to Goyt Valley is open for viewing and has already attracted quite a lot of attention. 'We always encourage our readers to get in contact with us and we've had lots of emails already about the new page.' He goes on to explain that the team at Peak District Online are there to answer any queries, to help with directions and map references, as well as providing the biggest online accommodation directory. 'We're not just about advertising. Our website is a wealth of knowledge and information that all our team have learned over the years, but we still learn new things every day. In fact, one of our busiest sections is the Peak District guide, where we uncover forgotten parts of the Peak District and bring them to life with our team of writers and researchers, and our photography of course.' He explains that the Goyt Valley is located between Macclesfield and Buxton, very close to the Cheshire and Derbyshire County border.
' It can be a barren landscape in the winter, covered in dense early morning fog, but then the sun comes out and the whole world changes before your eyes. It is an area of true outstanding beauty and each time I visit, it looks totally different than the last.' He explains. 'The area is definitely wild and wonderful, but that it also has its own legends and fascinating facts. This part of the world is home to the second highest pub in England, The Cat And Fiddle and also the home of a legend of a highwayman, waiting in ambush for those who dared to cross Derbyshire bridge long ago, the packhorse route which adorns many a Peak District postcard.'
The new section has been it added to the website this week, headed up by Steve, who is passionate about the scenery and landscape of the district, and James, who loves wildlife photography so much.
'A stunning place and an adventure land for children, it's perfect for picnics but also full of challenging walks not for the fainthearted. Visit Goyt Valley this weekend, you won't be disappointed.' Steve advises.
The Peak District guide is a growing list of pages featuring various parts of the Peak District, uncovering the flora, fauna, furry and feathered inhabitants of Derbyshire. Each photograph is taken in and around the area of choice, and the two photographers also go further afield to discover more subjects each week.
Steve explains,' both James and I are very passionate about our hobby and to be able to use our photography to show parts of the Peak District, which may have lain undiscovered for a lot of people is something we feel very privileged to be able to do.'
Visit the new page all about Goyt Valley at http://www.peakdistrictonline.co.uk today and discover more of Derbyshire you never knew before.