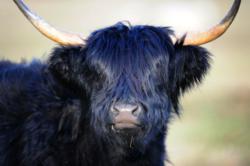 They are so impressively huge
Peak District, UK, 10th August 2012 (PRWEB UK) 10 August 2012
The Peak District wildlife section at Peak District online has just grown a little more, and now it's the turn of the Scottish cow.
'The addition of brand-new pages each week is just one thing that inspires visitors to view our site and holiday here in the Peak District 'explains James Dobson, director for the very successful website listing the largest accommodation directory serving the entire Peak District area.' The team here are all passionate about this wonderful part of the country, having all lived and worked here most of our lives. Our website started off as a small family run business directory, listing the various types of holiday accommodation covering Derbyshire, but it has grown into a monster of a website, visited by over 200,000 people a month.'
He goes on to explain,' we all have our own section that we look after, and my part is the new Peak District Wildlife section. We have a great writer who is absolutely passionate about the Peak District, and she also loves wildlife and we feel our combination of wonderful writing, and my passion for wildlife photography makes a winning combination.'
Both James and his business partner Steve are budding photographers who have both seen their work published by other websites and publications. The website is littered with their photographic artistry, Steve concentrating on landscape photography and James's love of wildlife is evident in his superb portraits and special moments that he captures in the early hours of the dawn mornings, before arriving at the offices at Peak District Online to begin his working day.
'There are lots of Highland cattle in the area around where I live in the White Peak,' he says. 'They are so impressively huge, their fringes long and wavy and the length of their eyelashes would make my wife envious,' he laughs.' They are simply stunning creatures, noble, impressive and gentle and the adults can strike fear in the hearts of men, especially if you come across one unexpectedly roaming the moorland heather in the Peak District, but their babies look like teddy bears. It makes you want to cuddle them, and then run away as fast as you can, both at the very same time.'
He explains that along with the photographs, comes a written explanation and also a bit of humour, facts and figures about each animal that he takes photographs of. 'It's our aim to provide as much interesting and informative text to help visitors who arrive at the Peak District, and then who don't really know where to go or what to see. With our knowledge of the area and experience at staying in lots of holiday accommodation in the area, we can pass on all the little vital bits of information to help all holidaymakers.'
The Peak District wildlife section is just one of the many pages which make up this very successful website.
'Our aim is to grow it even bigger and each week. Both Steve and I roam the countryside on our days off, finding facts and figures which we then ask our writers to research and do what they do well, write so beautifully, making the site so much fun to do.'
See the Peak District wildlife section, including James's wonderful photographs and visit the new Highland cattle pages, show casing this wonderful animal and James's glorious handiwork with the camera. Each week new pages are added throughout the site and the two friends endeavour to provide more photography to bring the writing to life.
Visit http://www.peakdistrictonline.co.uk and learn about the diverse range of furry and feathered inhabitants who make this wonderful part of the UK their home.