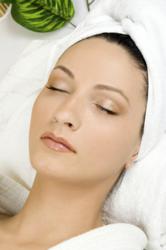 We cater to clients with our expertise and passion for inner and outer beauty.
Williamsville, NY (PRWEB) August 01, 2012
Face Fitness Skin Care, a professional skin care spa in Williamsville, New York, recently announced that they are offering a promotion on two of their most popular facials during the summer season. Until September 1, 2012, the spa is featuring a Blueberry Antioxidant Facial Treatment and a Raspberry Sweet Tea Facial Treatment. The Blueberry Antioxidant Treatment is a great exfoliation for anti-aging, fine-lines, mild acne, and enlarged pores and the Raspberry Sweet Tea Facial, provides gentle exfoliation with Hibiscus flower, while Peach softens and soothes summer-parched skin.
Face Fitness Skin Care is committed to offering only highly trained and licensed estheticians and the highest quality products available. Their services include signature facials, clinical and medical grade peels, microdermabrasion, waxing and several other services and amenities. Their estheticians have advanced skin care training from Pastiche USA. Pastiche Resources is an internationally recognized provider of the most advanced beauty therapy curriculum, which is based on pure science. The pharmaceutical products at Face Fitness Skin Care have 25 percent more active ingredients than over the counter products and clients see a true transformation of skin texture and coloration.
"Our skin care treatments are customized for every client based on their skin type and condition of their skin," said Michelle Giamberdino, owner of Face Fitness Skin Care. "Our expertise and years of experience allow us to give clients the best service catered towards their needs."
In addition to the summer facial promotion, Face Fitness Skin Care rewards their clients with loyalty points redeemable towards the purchase of any product or service and there is always a birthday discount. Appointments for skin care services, including the summer facials, can now be booked online at Face Fitness Skin Care's website, http://www.facefitnessltd.com. For more information, you can view promotions, services, as well as purchase gift certificates on the company's website. Also you can have some social media fun and visit Face Fitness Skin Care on Facebook at Facebook.com/FaceFitness and learn about special events, promotions, as well as new advances in skin care.
About the company:
With more than 25 years experience, the Face Fitness Skin Care professionals have cocktailed the finest ingredients from all of our skin care lines to create the best signature treatments available with visible results. Their goal is to educate their customers about their specific needs and customize a treatment plan to achieve healthy, beautiful skin. Face Fitness Skin Care's estheticians will recommend a facial best suited to their customers unique needs at the time of their appointment. For more information visit their website at http://www.facefitnessltd.com.