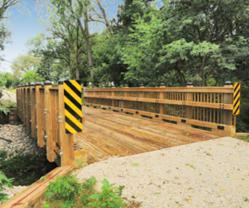 "Midewin National Tallgrass Prairie was pleased with the outstanding work performed by YBC. The crew was professional and efficient while achieving contract completion in a timely manner."
Wilmington, IL (PRWEB) August 14, 2012
In early May 2012, York Bridge Concepts, Inc.™ (YBC) completed two single-lane, 40-foot long timber vehicular bridges for Midewin National Tallgrass Prairie. Located just outside of Chicago and founded in 1996, Midewin was designated, by the federal government, as the first National Tallgrass Prairie in the nation. This remnant prairie land once housed part of the former Joliet Army Ammunition Plant. Today, it is a large-scale work-in-progress, as the Forest Service restores the 20,000-acre native prairie land to provide recreational and educational opportunities.
In efforts to resort everything to a "natural state," timber, the only renewable construction material, was chosen to replace the existing steel and concrete culvert bridges. Also, according to Hammer Construction's' General Contractor, Bob Hemmer, "Timber was chosen because it was a great alternative to another bridge system that was specified — much more cost effective and higher quality."
It was requested that YBC dig out the creek banks because the original culverts were blocking the stream when it flooded. — The block was caused by the culvert fill. When culverts fail, they restrict water flow, acting as a dam. Culverts fail due to corrosion of the materials they are made from or erosion of the soil around or under them which can lead to devastating roadway collapses. Midewin's culverts failed to such a degree that a significant portion of the roadway had been lost to erosion.
YBC effectively solved Midewin's culvert issues by implementing several special construction features: excavation of steel and concrete culvert bridges, digging out of creek banks to allow for better, more natural water flow and the implementation of erosion control through riprap and silt barriers for the creek banks. YBC also completed the backfill of the abutments, grading, aggregate road approach tie-ins and even the laying of the grass seeds. The Midewin bridge project proves that York Bridge™ is a true turnkey timber bridge company — from design to sawn timber, to a completely accessible, finished product that will last for generations.
The twin, 10-foot high timber vehicular bridges provide a safe crossing method for visitors, featuring custom 54 inch guard rails, specifically suited for bikers. These bridges can be found crossing ravines, "helping the park in moving equipment, as well as helping hikers and bikers travel around the park."
"The project went very well overall. After two years in delays from the client for permitting issues, the overall cost went up less than 10 percent. The York field staff was extraordinary, completing the installation of two bridges, all of the civil work and the finished carpentry with just two full-time craftsmen. The design process went very well and the greatest testament is that the end user could not be happier with the final product," concluded Mr. Hemmer.
Follow YBC's Bridge projects here.
About York Bridge Concepts
York Bridge Concepts, Inc. (YBC) is the nation's largest on-site timber vehicular bridge builder. YBC works with industry-leading owners and developers on prestigious projects throughout the U.S. and Internationally, creating more than just a solution for crossing lakes, streams, creeks, wetlands or ravines. In this competitive real estate market, developers who want to ensure that their project stands apart from the competition use York Bridges to add value and create a feeling of exclusivity, warmth, and quality for their customers. Based in Lutz, Florida, with 28 years of experience, YBC has become well-known for their expertise and cutting-edge innovation in timber bridge design and on-site construction.
For more information, please visit YBC's website: http://www.YBC.com