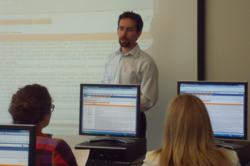 Kensington, MD (PRWEB) August 16, 2012
The Capital Regional District(CRD) is the regional government for the 13 municipalities and three electoral areas that are located on the southern tip of Vancouver Island. The urban centre of the CRD is the City of Victoria, and the regional district also includes many of the Gulf Islands, a number of rural municipalities and a vast tract of wilderness that lies along the south-western coast of Vancouver Island.
The installation of Infolinx WEB has provided CRD with an industry leading solution managing the entire life-cycle of their paper-based administrative and financial records. Of particular benefit is the solution architecture support for the provincial records retention schedule standard, including primary and secondary classifications.
Designed and installed by Infolinx reseller File IT Solutions based in Victoria, BC, CRD has coupled an enterprise-class application with local, knowledgeable, dependable support.
"Infolinx handles our custom-designed hierarchical, small-bucket records classification schedule in a straightforward and intuitive manner" says Jon Weston, Lead Application Specialist at File IT. "The records management functions, including records creation, transferal, retention, and ownership, are powerful and easy-to-use. Overall, the amount of end-user input that has gone into Infolinx's design has made the implementation and training process a lot easier, and the CRD staff appreciates all the little things that make their jobs easier. We have also been able to provide a group of fully-customized colour labels designed to meet the various departmental requirements thanks to Infolinx WEB's seamless integration with Colorflex ®LabelsAnywhere™."
About Infolinx
Infolinx System Solutions is a leading provider of DoD5015.2-certified enterprise physical records management software. Full life cycle records management for records centers and file rooms includes integrated Enterprise Content Management, robust searching, online requesting, complete audit history, location reconciliation, supply item ordering, retention schedule and legal holds management, integrated RFID technology, space management with charge-back functionality, extensive reporting capability, advanced security configuration, workflow email notifications, and legacy data sharing. Infolinx maintains clients within all major business segments and the public sector. Visit Infolinx System Solutions for additional information.