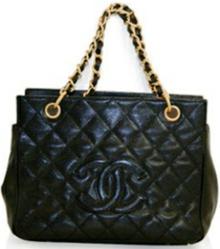 It's all pre-owned. Consigned or buyouts is what we do, but we always authenticate everything.
Destin, FL (PRWEB) August 15, 2012
Despite recent popular opinion about the tenuous economy, LuxExchange in Destin's City Market shopping center is challenging conventional wisdom after their first few months of successful operation. This high-end http:// luxury handbag exchange and consignment store specializes in designer handbags, shoes, jewelry, sunglasses and women's watches. Despite the risk of opening a new business in trying financial times, owner and operator Melanie Schweizer is pleased to report positive growth.
No matter what the stock market says about the nation's economy, it's clear that people still enjoy the finer things in life. Whether customers are browsing LuxExchange's selection of high-end items looking for great deals on luxury accessories, or consigning their own items for extra cash or new designer pieces, all transactions are authenticated and ensured for consumer safety. If the store can't verify that a piece is not a copy or replica, they simply won't sell it. They also offer a lifetime authenticity guarantee for all products.
Melanie Schweizer was inspired by a string of successful local trunk shows to move her operation into a permanent location, and it seems that LuxExchange has discovered a demand other luxury dealers overlook. Often, shoppers have to travel to larger cities like New York or Miami to find the best selections of items from designers like Louis Vuitton, Chanel, Prada, and Gucci. By offering these same pieces in the Destin market, the business brings the big city home, and gives sellers and buyers alike a new opportunity for exchange. For more information and a complete online listing of the designer handbags and accessories that LuxExchange offers, visit their new website at http://www.myluxexchange.com.
About the company:
LuxExchange opened on April 5, 2012 and is located in the City Market shopping center in Destin, FL. LuxExchange is a high end luxury consignment store where one can buy, sell and consign high-end authentic brands of handbags, women's shoes, fashion jewelry, sunglasses and women's watches. For more information stop by 36150 Emerald Coast Parkway, Destin, Suite 103, FL 32541, check out the website http://www.myluxexchange.com or call 850-424-7772. LuxExchange is bringing authentic luxury high end bags and accessories at a discounted rate nationwide.