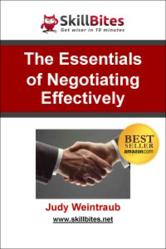 "Significantly improve your negotiating skills an hour before you shake hands"
Valley Forge, Pa (PRWEB) August 01, 2012
Judy Weintraub, CEO and owner of SkillBites, an innovative resource center where people can learn important lifestyle and business skills, has recently reached the No. 1 ranking on Amazon's Best Sellers list in two business categories – negotiating and skills – for her book, The Essentials of Negotiating Effectively.
"I'm very excited to have achieved the No. 1 ranking and am gratified that so many people found value in the tips I provided to improve people's negotiating skills. We negotiate all the time, in our professional lives as well as our personal lives, and even a little improvement in our skills can result in our achieving much better results," explained Weintraub.
The Essentials of Negotiating Effectively is Judy's first authored book and is available in paperback and on the Kindle. Conveniently short at 26 pages in length, the book can be absorbed in just minutes.
"With The Essentials of Negotiating Effectively, if you're about to go into an interview, or discuss a business transaction, you can now learn the vital tactics of negotiating and significantly improve your negotiating skills an hour before you shake hands," said Weintraub.
SkillBites has also recently made a number of website improvements, and added much more content, including such diverse topics as auto mechanics for women (Women Auto Know: Glove Box Guide), and managing email (Winning With Email).
SkillBites provides an easy platform for people to become authors. "If you have expertise on any topic that has a mass or niche interest, we would invite you to submit an application to author a SkillBite," said Weintraub. "Having a published book is a powerful tool for building a business, as it provides instant credibility and serves as a strong credential, differentiating you from your competition."
People interesting in authoring a SkillBite will find detailed information on the website – http://www.skillbites.net – under Submit Your Content.
SkillBites is active on social media, with over 4,500 Facebook fans and 14,500 Twitter followers. With a daily "learn something new" Tweet, tips from various SkillBites are provided to SkillBites' social following. Those wanting more tips on the daily learning may visit the website to purchase and download the SkillBite on the particular topic.
"Our site is improving and growing constantly, and we are attracting more followers and more visitors to the site every day. It's an exciting adventure and I'm pleased with our progress," said Weintraub.