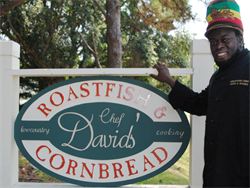 Hilton Head Island, SC (PRWEB) August 01, 2012
For those who have tried his whole roasted fish, shrimp gumbo or popular sweet potato cornbread, they know Chef David Young's cooking demonstration at the Culinary Arts Center (CAC) at Hilton Head Health is sure to be a treat. As part of a Chef's Secrets cooking class series at the CAC, Hilton Head's newest healthy cooking experience located in Shipyard Plantation, Young will share some of his popular recipes and cooking techniques in an interactive demonstration on August 8th from 10-11:30 AM, for $35 per attendee.
Hilton Head residents and visitors can't stop talking about Young's homemade, lowcountry cooking featured at his restaurant Roastfish & Cornbread. As a native to Hilton Head, Young's cooking style is inspired by family recipes that utilize rich, local produce to enhance flavor.
In his Chef's Secrets cooking demonstration, Young will prepare and serve samples of fresh, summer dishes including a summer tomato medley, garden vegetable salad, shrimp and grits as well as mini key lime pie. Participants will have a front row view of his cooking process, all the while learning new cooking techniques and getting to know the chef.
To attend the August Chef's Secrets cooking class, contact Leah McDonald at (843) 785-3919 or lmcdonald(at)hhhealth(dot)com. Seating limited to 24 attendees.
About the Culinary Arts Center at Hilton Head Health
The Culinary Arts Center (CAC) at Hilton Head Health (H3) is designed to enhance the overall culinary experience through interactive cooking demonstrations and participatory hands-on sessions that take Guests from the CAC's healthy kitchen to each guest's home. With the guidance and assistance of skilled H3 Chefs, participants will have the opportunity to gain valuable insight on how to prepare flavorful, low-calorie dishes—all while learning proper cooking techniques and helpful tips along the way. Whether looking for a unique dining experience or a hands-on cooking class, the CAC offers a variety of sessions open to individuals, couples and private groups. The CAC classes are for all to enjoy, whether a seasoned chef or a novice in the kitchen, all skill levels are welcome! To learn about upcoming classes or to find out how to host a private party at the CAC, call Leah McDonald at 843-785-3919 or visit http://www.hhhealth.com/cac.